I make a lot of mini cupcakes and recently I seem to be making more than ever before.
Today I thought I would share a few of my top tips for making mini cupcakes and add a few pictures of the adorable mini cuppies I have been making to give you a little inspiration.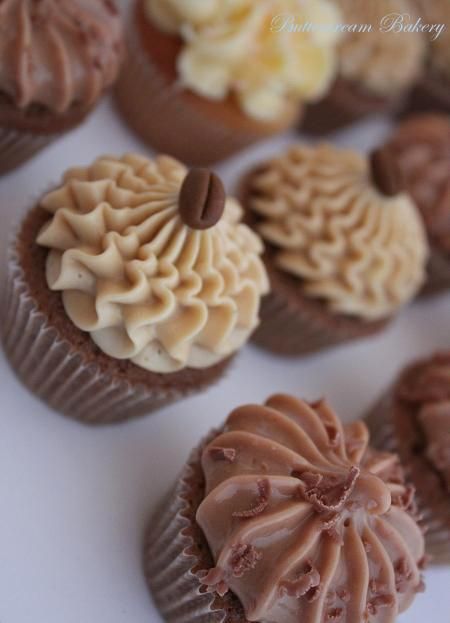 Making mini cupcakes is of course basically exactly the same as making regular sized cupcakes but there are a few tips and tricks that will make your life so much easier.
Almost all cupcake recipes can be made into mini cupcakes. Mini cupcake pans hold around a third of the amount of batter as regular cupcake pans, so if you have a recipe that yields 12 full sized cupcakes, you will get around 36 mini cupcakes from that batter.
It helps to know the batter you are working with really well, our chocolate cupcakes for instance rise a lot higher than our vanilla cupcakes when baked, so I only fill the mini cupcake cases until half full with chocolate batter and two-thirds full with vanilla batter. Normally you will want to fill the mini cupcake cases until 2/3 full as with regular cupcakes but be careful, it is very easy to overfill mini cupcake cases.
I recommend starting with the original recipe and making a large batch of mini cupcakes, rather than cutting down the recipe. Some recipes do not scale down well.
Mini cupcake pans can be a pain to fill, it can take a long time, especially if you are making hundreds of mini cupcakes at a time and as we know cake batter does not like to wait. At the bakery we always pipe our cake batter into mini cupcake cases/trays.
I use a large disposable piping bag fitted with a 2cm round piping tip for this. It is much quicker and far easier to make all the cupcakes uniform in size by piping the batter into the cases, rather than scooping and spooning.
Mini cupcakes will bake in around half the time of regular sized cupcakes.
Around 10-16 minutes for mini cupcakes and 20-25 for regular sized cupcakes. It is really easy to over bake mini cupcakes so keep a close eye on them and check to see if they are baked after around10 minutes.
If you choose to add anything to the cupcake batter, chocolate chips, nuts or fruit for example, be sure to crush or chop them into very small pieces, it is very easy to overwhelm a mini cupcake.
It is also very easy to make a mini cupcake look too top heavy, small toppings work best, sprinkles, crushed nuts, biscuits crumbs, coconut and small chocolates or sweets work much better than large fondant toppers.
When it comes to piping mini cupcakes, I like to get a little fancy.
I absolutely love buttercream fills, ruffles and swirls. The beautiful little pink cupcake above has been frosted with one of my all time favourite piping tips, the Atteco 855.
Unlike large cupcakes that are piped with a swirling motion, I generally like to pipe my mini cupcakes directly from the top, so instead of swirling the tip, hold the piping bag/tip above and directly in the centre of the mini cupcake and pipe without moving the tip at all.
For example to frost a mini cupcake like the little Tiffany blue cupcake below, use a French Star Tip, (also know as a fine toothed open star tip), hold the piping bag/tip above and directly in the centre of the mini cupcake and pipe without moving the tip from that spot. Simply apply pressure to the piping bag and allow the frosting to fill before releasing the pressure and moving the tip away.
Other piping tips I love to use for mini cupcakes include:
So there you have it, my top tips for mini cupcakes, I hope you find them useful.
I will do my best to answer any questions that you may have, so please feel free to comment below.