Doughnut muffins are gorgeous, light and fluffy, sweetly cinnamon scented, dipped in melted butter and rolled in glorious cinnamon sugar, I struggle to think of anything more wonderful than a Doughnut muffin warm from the oven....
Baking my favourite doughnut muffins in my William Sonoma Doughnut Cake Tin was a stroke of genius if I do say so myself. The cake is totally scrumptious and it really does look like a giant sugary doughnut.
The William Sonoma doughnut is made in two parts, (you layer two doughnut halves together to make a doughnut shaped cake) but I only used one of the tins, or one half of the doughnut to make this cake. It is therefore far smaller than a standard bundt cake, this is no bad thing if you are likely to eat the entire thing yourself like me!
You can of course use any bundt tin you have but I'd recommend doubling the recipe to adequately fill a 10-12 cup bundt tin.
Doughnut Bundt Cake
(Makes 1 small Bundt Cake or 12 Muffins)
For the cake:
1 3/4 cup plain flour
1 1/2 teaspoons baking powder
1/2 teaspoon salt
1/2 teaspoon freshly grated nutmeg
1/2 teaspoon ground cinnamon
1/3 cup vegetable oil
3/4 cup caster sugar
1 large egg
3/4 cup milk
For the coating:
1/4 -1/2 cup butter, melted
1/3 cup sugar
1 teaspoon cinnamon
Preheat oven to 170C and grease your chosen bundt pan or muffin tin well.
Sift together the flour, baking powder, salt, nutmeg and cinnamon in a medium bowl and set aside.
Combine the oil, sugar, egg and milk in a large bowl. Sift the dry ingredients into the wet ingredients and stir only to combine. (Do not worry about lumps, worry about over mixing).
Place in the preheated oven for around 30 minutes for a small bundt and 15-20 minutes for muffins or until a cake tester inserted into the centre comes out clean.
While the cake is baking make the coating, melt the butter in a small bowl. In another small bowl, combine the sugar and cinnamon.
Once the cake is baked remove it from the oven and turn out onto a cooling rack immediately, or as soon as you can. Brush the entire cake with melted butter and sprinkle liberally with cinnamon sugar (you may not need it all).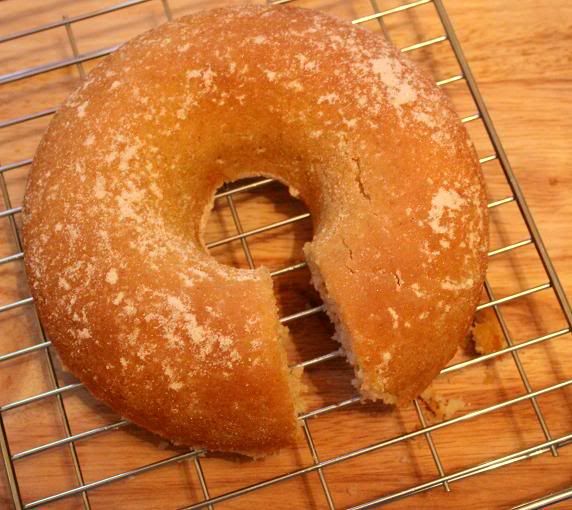 This Doughnut Bundt Cake is jaw dropping eaten warm, straight from the oven but it is also fabulous the next day. I particularly like to toast slices under the grill and spread them with butter and jam. The breakfast of champions!
x x x