I was over the moon to receive a copy of
Adriano Zumbo's new book Zumbo
for Christmas, the book is without a doubt the most inspirational in my entire collection and I have a huge collection. Zumbo is not a book for everyone and I doubt even I will really recreate many of the desserts completely, many include numerous different components and would certainly take the best part of a week to finish and assemble.
Also almost all of the recipes require specialist ingredients that even the most frequent home baker will struggle to find, such as Iota, Lecithin, Titanium dioxide and Algin. All that being said, I absolutely love it. The photographs are phenomenal, the recipes jaw dropping and every single page gives me a million ideas.
The highlight of the book for me is the macaron section, with recipes such as Sticky Date Macarons, Strawberry Bubble Gum Macarons, Cherry Coconut Macarons and Rice Pudding Macarons, I could not wait to dive in.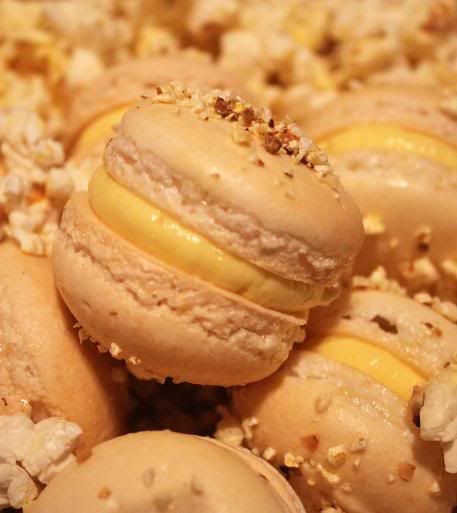 First I had to get my hands on some egg white powder as Adriano Zumbo uses 2g of powdered egg whites in his basic macaron recipe. This wasn't too difficult and I managed to order some from one of our suppliers at the bakery. At this point I should point out that although the idea and buttercream recipe I have posted are adapted from Zumbo's book the macaron recipe is not.
I tried the basic macron recipe required for these Salted Butter Popcorn Macarons twice and both times was a complete disaster!
Not just a few dodgy macarons disaster but a total macaron carnage type of disaster. Why this is I can't tell you, maybe I was having a bad macaron day, maybe the addition of egg white powder was changing the consistency of the meringue and I was consequently over or under mixing, I really don't know. I have never had such a macaron mess on my hands and it was terribly disappointing.
After attempting the macarons twice I was very fed up. I was just about to try the recipe for a third time when I though, sod this! I pulled out a trusty macaron recipe from
I Heart Macarons
, French Meringue this time because quite frankly I was sick of making sugar syrup. They took about 15 minutes to knock up and came out absolutely perfectly! I thanked the Macaron Gods profusely.
You are probably wondering why I still love this books so much, well try this buttercream and you will know. Never in my life have I been so in awe and utterly stunned by a recipe. I can't even begin to tell you how much the finished macarons taste like Salted Butter Popcorn. Exactly! They taste exactly like Salted Butter Popcorn!!!!
Adriano Zumbo is a genius! I just need to master his blooming macaron recipe!
I will try the macaron recipe again but not until I'm feeling particularly resilient.
Salted Butter Popcorn Macarons
For the Macarons:
85g ground almonds
150g icing sugar
3 large egg whites
65g caster sugar
1 tsp vanilla extract
For the Buttercream:
100g caster sugar
38g water
75g lightly beaten egg
45g egg yolks
200g butter
3g sea salt flakes
1 bag microwaveable natural or butter-flavoured popcorn
Melted unsalted butter, for brushing
For the Macarons:


Line two baking sheets with baking paper.
Sift the almonds and icing sugar together into a medium bowl and set aside
Place the egg whites into a large mixing bowl and whisk until they reach soft peaks. Gradually add the caster sugar, whisking continuously until you have a firm,glossy meringue. Add the vanilla extract and whisk until evenly distributed.
Using a rubber spatula, gradually fold in the almond mixture, one third at a time. Once all the almond mixture has been incorporated use the spatula to cut through and fold the mixture a few more times. Just until the batter falls from the spatula in a thick ribbon that sinks back into the rest of the mixture within about 30 seconds.
Pour the mixture into a large piping bag fitted with a 1cm plain round nozzle and pipe small rounds of equal size. Tap the baking sheets firmly against the counter top to knock out any air bubbles and help the macarons settle. Leave the macarons on the counter at room temperature for around 30 minutes or until they form a skin.
Preheat the oven to 160C .
Bake the macarons one tray at a time in the preheated oven for 10-15 minutes depending on their size.
When baked, remove from the oven and slide the baking paper off of the hot tray and allow the macarons to cool on the sheet for 10 minutes before peeling the shells off the baking paper.
To Make The Buttercream:
Beat the softened butter in a medium sized bowl until very soft and creamy, set aside.
Place the eggs and egg yolks into a large mixing bowl and set aside.
Combine the water and sugar in a small saucepan and place over a medium-low heat until the sugar dissolves. Turn the heat up to medium and cook until the syrup reaches 121C.
While heating the syrup beat the eggs and yolks at a medium speed with an electric mixer for two minutes. Whisking continuously poor the hot syrup in a thin, steady stream over the egg mixture. Whisk the mixture until thick and cooled to 50C.
Slowly add the softened butter, a teaspoon sized amount at a time, mix well after each addition to ensure there are no lumps. Fold in the salt.
To Assemble:
Cook the popcorn according to the instructions on the packet and blitz half of the popcorn to a crumb in a food processor.
Pair up your macaron shells. Brush the top of each macron with melted butter and sprinkle with popcorn crumbs. Leave for 10 minutes for the butter to set.
Fill a piping bag fitted with a 9mm plain round nozzle with buttercream. Pipe around a tsp of buttercream onto the flat side of one macaron in each pair and sandwich together with it's partner.
Refrigerate the macarons to set. Serve at room temperature.