Happy Mother's Day!
I hope you are all having a wonderful weekend!
I just have a couple of batches to share today, both are equally cute and scrumptious.
The adorable Bunny Rabbit Cupcake above was part of a lovely batch, the Vanilla Cupcakes are frosted with Vanilla Buttercream, Milk Chocolate Ganache and Whipped Milk Chocolate Ganache.
The adorable bunny wasn't the only cutie in the batch though....
I love this cute little mouse, his cheeky little face is just brilliant (even if I do say so myself lol).
Oh dear! What has happened here? Excuse me Miss but there appears to be a teddy bear drowning in my cupcake...
It had all been going so well for the bears of Buttercream Bakery.
Since a rather harrowing Halloween things had been looking up for the teddies, all was cute and quiet on the teddy bear trauma front but this week many a Buttercream Bakery teddy bear met a sticky end.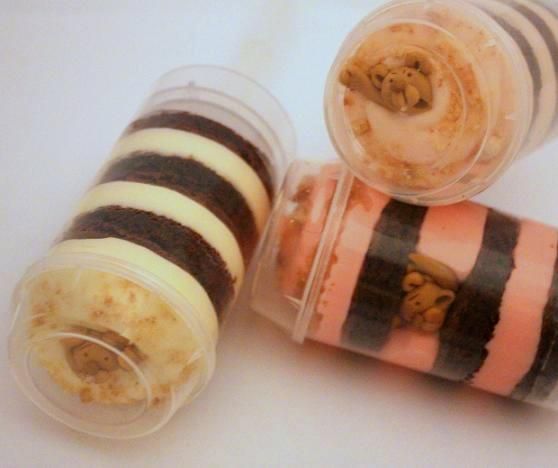 Don't feel too sorry for the greedy little bears though, they should learn to stay out of my frosting!
Oh no! I'm drowning in buttercream! Help Meeeeeeee!
These delicious cupcakes are a mixture of Chocolate Chip Cookie Cupcakes and Chocolate Cupcakes, frosted with Milk Chocolate Buttercream or Vanilla Buttercream.
The cupcakes are all decorated differently, drizzled with chocolate, topped with nuts, chocolate chips, sprinkles, cake crumbs, a drowning teddy or two...
Have a wonderful Mother's Day, I'll be back next week with at least five macaron posts and the most epic cupcakes you have ever seen in your life! I'm serious, the toppers have taken up most of this week!
x x x