With an eclectic range of designs and gorgeous shades of chocolate and pink, these cupcakes are really cute and even better, they are personal tailored to the birthday girl in every possible way.
These cupcakes included all the birthday girl's favourite things, the designs incorporated lots of baking themed toppers, chocolate bars, in white milk and dark chocolate, an oven glove, cracked eggs in icing sugar, patisserie treats and miniature chocolate dipped strawberries.
The batch also featured pretty pink ribbon roses, miniature teddy bears and miniature pink wrapped candies.
There were also two adorable little puppies, who are of course based on real little dogs.
They are both adorable but I must admit to having a favourite...although I'd never say which...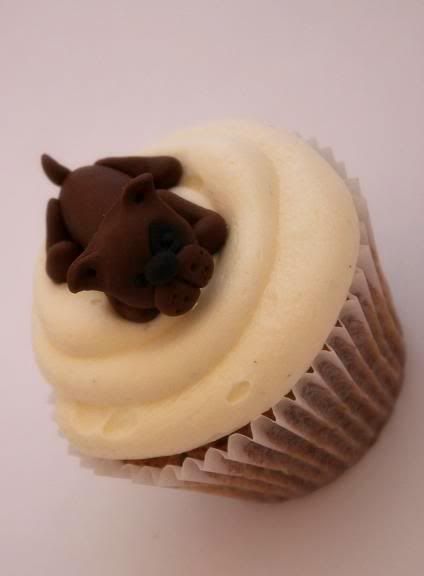 The patisserie treats cupcake was really cute and a favourite of mine, I love the swirl of cream atop the baby pink macaron and those dinky little eclairs.
The cracked egg cupcakes are really cool!
The iced cupcakes was topped with a little pile of icing sugar and the egg is made using a little blob of piping gel and a small ball of yellow sugar paste.
All of the cakes were delicious coffee sponge, half of the batch was iced with vanilla buttercream and the other half iced with coffee buttercream.
x x x