These macarons are just oh so cute!
Firstly I feel I should explain why I have named them after every one's favourite bear Paddington.
The main reason is the filling, these lovely little macarons are chocolate macaron shells filled with milk chocolate ganache and marmalade. Since Marmalade is Paddington Bear's favourite it only seemed fair to name these macarons after him.
Paddington Bear was also voted the most loved cartoon character recently and he has always been a favourite of mine, so Paddington, you cutie, these are for you.
The macarons taste like Jaffa Cakes and if you love the chocolate orange combo you will love these. Don't over-do the marmalade though, you're after that lovely subtle hint of orange amidst the chocolate, too much and the marmalade will over power the chocolate.
I recommend making yourself a template for the bears, draw your teddy bear shape onto a sheet of A4 paper and slide this under the baking parchment before you pipe. Simply slide the template along as you go and remove the sheet of paper before baking the macarons.
I suggest using a 0.5cm plain round piping tip for this, I usually pipe macarons with a 1cm round tip but a smaller tip makes those little ears far daintier. I also find a smaller tip is useful for piping mini macarons.
Paddington Bear Macarons
Original Chocolate Macaron recipe adapted from
Nigella Lawson - How to be a Domestic Goddess
Chocolate Macarons
250 grams icing sugar
125 grams ground almonds
25g cocoa powder
4 large egg whites
25 grams caster sugar
2 baking sheets, lined with parchment paper
0.5 cm plain icing nozzle and piping bag
Milk Chocolate Ganache
90ml double cream
180 grams milk chocolate, chopped
45 grams unsalted butter
50g orange marmalade
around 50g milk chocolate, to decorate
Preheat oven to 150 C. Sift together the icing sugar, ground almonds and cocoa powder. Whisk the egg whites until fairly stiff, but not dry, sprinkle the sugar over and whisk until very stiff. Gradually fold in the sifted ingredients.
Pipe teddy bear shaped macarons onto your lined baking sheet, pipe one large circle for the face and two smaller circles for the ears using a plain 0.5 cm nozzle. Rap the baking sheet hard on the counter top to remove any air bubbles and let them sit for 15-30 minutes until the rounds form a skin.
Bake for 12 - 15 minutes: you want them dry on top but, but still chewy underneath. Remove from the oven and let cool on their sheets for a few minutes before removing and placing on a wire rack.
Make the ganache by melting all the ingredients together in a small saucepan. When the chocolate has fully melted remove from the heat and whisk until thick.
When cool pipe around 1 tsp of ganache on the underside of one macaron add a little dollop of orange marmalade and sandwich it together with another macaron shell.
Melt the milk chocolate and set aside to cool. Once the chocolate has cooled pour into a piping bag or squeezy bottle (the kind you find ketchup in at cafes) and drizzle across the macarons to decorate.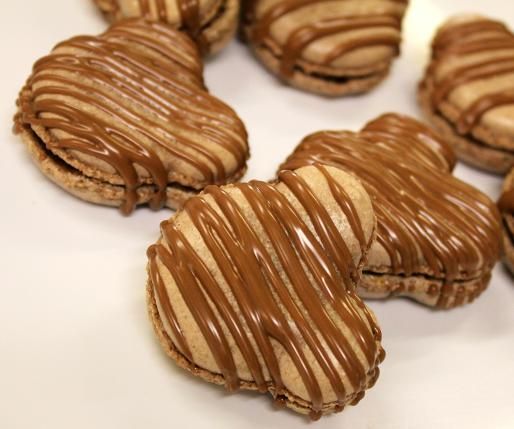 I have loads of really cute ideas for these teddy bear macarons so I think you'll be seeing some again soon. I have a busy week ahead with 500 mini cupcakes to make tomorrow and some awesome miniature toppers to finish for a rather epic batch on Friday. I will also definitely be posting my macaron mat review, with a full round up asap.
x x x
◦