Last week I posted a cute batch of cupcakes here on my blog and over on my instagram page. They got a lot of attention and someone in particular was very taken with my little macaron cupcake topper.
The lovely person in question asked me if the macaron was real and was so delightfully impressed when I told her it was fondant that I had to make this tutorial especially for her. Flattery will get you everywhere!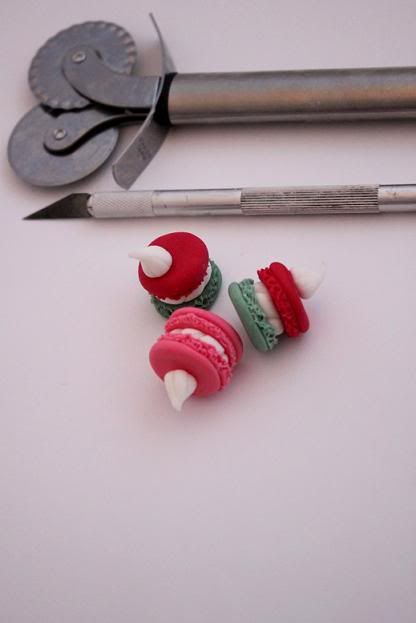 The little macarons are so simple to make, the only tools I use are a pastry wheel and a small artist scalpel but you can make do with a small sharp blade and a toothpick.
Click image to enlarge.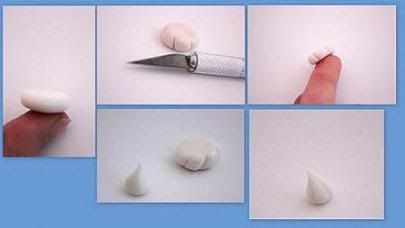 You want to start by making the filling for your macaron.
Take around 1.5g of sugar paste in what ever colour you like. Roll the paste into a ball and flatten into a plump disk.
Take a scalpel or a small blade and make small diagonal indents, equal distance apart, all the way around the edge of your disk as shown.
Take another 0.5g of sugar paste in the same colour as your 'filling' and shape it into a small cone.
Once again using the sharp blade of a scalpel, push indents into the cone, an equal distance apart, this time straight upwards rather than at a diagonal.
Gently twist the top of the cone using your finger tips until you are happy with the shape and it resembles a squirt of cream.
Click image to enlarge.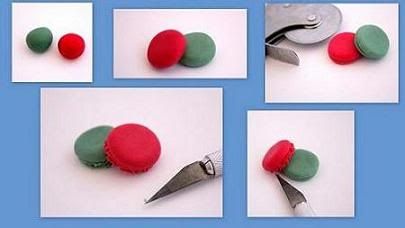 Now you want to start macing the macaron shells.
Take 2 pieces of sugar paste weighing around 2.5g each.
Roll each piece into a ball and flatted into a plump disk. Ensure both disks are the same size and a little larger than the filling.
Using a pastry wheel or small blade, make a small cut all the way around each disk, about 1/3 of the way the edge.

Click image to enlarge.
Using the tip of a small scalpel or a toothpick, gently pick at the sugar paste under the line you have just created, pulling it outward and roughing up the entire bottom edge.
Place one macaron with the rough edge facing upwards and affix the 'filling' to the centre with a very slightly damp paintbrush. Top with the remaining macaron shell (rough side facing downwards) and affix the little squirt of cream on top.
That's it, super easy and seriously cute.
Have fun playing around with different colours and designs, you can add sprinkles to the top, a little chocolate drizzle maybe..?

x x x