Cinnamon Toast Crunch is awesome!
This is my second Crunch post, the first being
Cornflake Crunch
and I think this is my favourite. To nibble by itself both the Cornflake Crunch and Pretzel Crunch are much better, the Cinnamon Toast Crunch is incredibly sweet and even for me a bit too much but as a garnish/add in...!!!
Oh my!
I have already used some of my Cinnamon Crunch to make French Toast Macarons (recipe coming soon) and they were absolutely amazing. I have big plans for cupcakes using a similar crunch of my own creation.
Cinnamon Toast Crunch
Makes about 250g
115g unsalted butter
100g white bread
100g caster sugar
1/2 tsp kosher or sea salt
1 tsp ground cinnamon
Firstly you will need to brown your butter.
Place the butter in a microwaveable bowl and cover with two small microwavable plates. Microwave the butter on high for 3-5 minutes.
The butter will melt and start to pop and begin to brown. You want it deep brown in colour.
Cool the brown butter completely, stirring every now and again to ensure the caramelized milk solids are evenly distributed. Set aside.
Now you can begin with your crunch.
Preheat the oven to 170C.
Cut the bread into roughly 1cm pieces. Place the bread in a large mixing bowl, drizzle over the brown butter made in the first step and toss to combine. Let the bread soak for 1 minute.
Sprinkle the sugar, salt and cinnamon over the bread and toss well.
Spread the mixture evenly onto a parchment lined baking tray and bake for 25 minutes.
Pull the baking tray out of the oven slightly and using a rubber spatula break up the cinnamon toast crunch a bit and toss it around. Bake for an additional 5 minutes, until you have dry, crunchy, caramelized clusters.
Cool the cinnamon toast crunch completely before storing in an airtight container.
The crunch will stay fresh for 1 week at room temperature and 1 month in the fridge or freezer.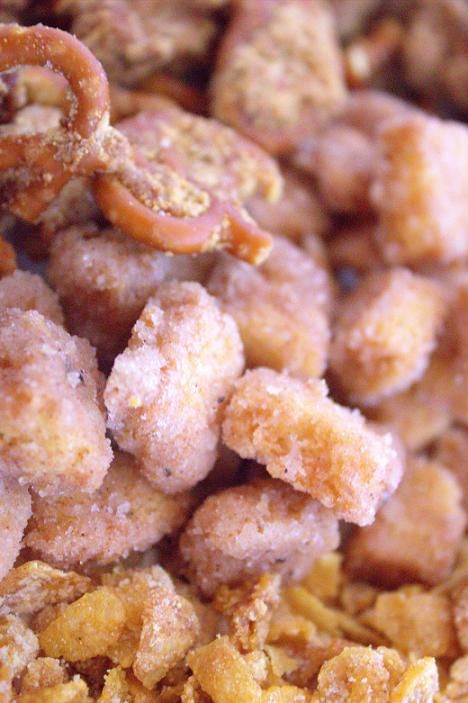 Enjoy!
xxx