This is the first of a trio of posts about glorious Crunch.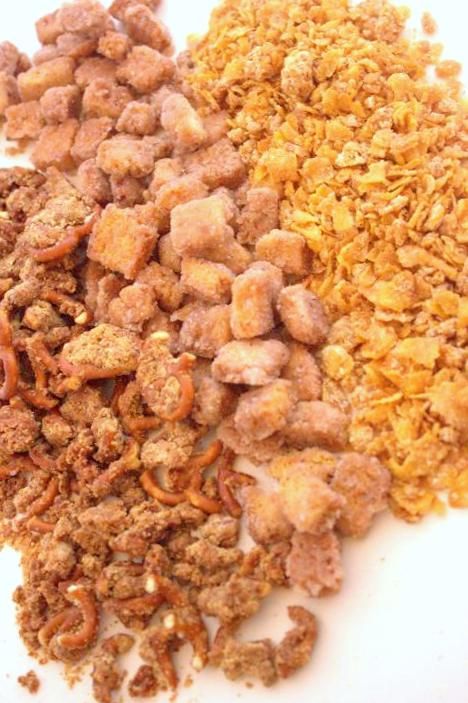 Pictured: Pretzel Crunch, Cinnamon Toast Crunch & Cornflake Crunch.
Crunch is like awesome dessert garnish.
This particular crunch, cornflake crunch is amazing sprinkled on ice cream!
It is probably best described as gourmet Crunchy Nut without the nut and I could happily snack on it all day long.
The cinnamon toast crunch I have already used to create some gorgeous French Toast macarons and all three make fantastic cupcake sprinkles, when ground to a fine crumb.
I will post all three crunch recipes and all of the delicious goodies I create with them.
Crunch can also be used in cookies, cakes, ground to a crumb and used to make pie or tart bases, you can sprinkle them on almost anything and they are all scrumptious by themselves as a cheeky snack too.
Cornflake Crunch
Makes about 360g
170g cornflakes
40g milk powder
40g caster sugar
1 tsp kosher salt or sea salt
130g unsalted butter, melted
Preheat the oven to 140C.
Pour the cornflakes into a medium mixing bowl and crush them using your hands until they are roughly a quarter of their original size. Add the milk powder, sugar and salt and toss well to mix.
Add the melted butter and toss again until the cornflake mixture is evenly coated. As you toss the mixture the butter will bind the cereal with the dry ingredients together creating clusters.
Spread the mixture onto a parchment lined baking tray and bake for 20 minutes. The cornflake crunch will look toasted and smell deliciously buttery.
Cool the cornflake crunch completely before storing in an airtight container.
The crunch will keep for 1 month if stored in the refrigerator or freezer and 1 week at room temperature.
I am trying out all sorts of different crunch, crumbs and soils because I want to create a few signature ingredients to use at Buttercream Bakery. Exploring Christina Tosi's recipes has given me so many ideas! Tosi is a huge inspiration to me and I love her and her gorgeous recipes in equal measure.
So far I have decided I will definitely be working on a Panettone Crunch and a Strawberries & Cream Crumb which will be used as a delicious addition to cookie doughs and cupcake batters as well as to garnish our delicious creations.
x x x