These glorious macarons where a result of my resent Crunch experiments.
Inspired by the gorgeous flavour of the
Cinnamon Toast Crunch
I decided to try and create a French Toast Macaron, that uses this glorious Crunch a a flavour boosting component.
The macaron shells are flavoured with cinnamon and maple extract and I sprinkled them with ground Cinnamon Toast Crunch before baking. The shells are sandwiched together with a simple maple buttercream and another sprinkle of Cinnamon Toast Crunch, just for good measure.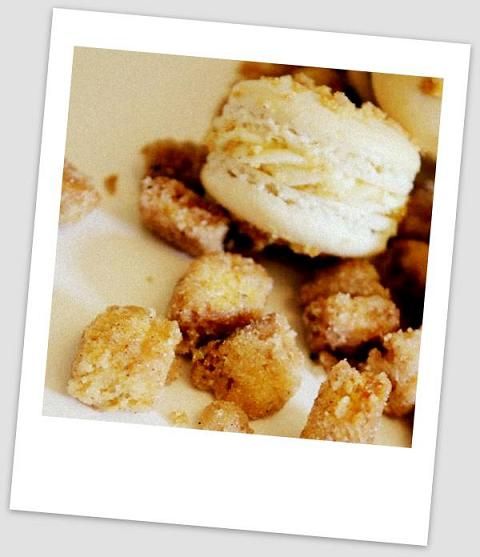 These macarons turned out beautifully and they really do taste like French Toast. The Cinnamon Toast Crunch definitely holds it's own against the flavour of the macaron & the crunch is a lovely variation in texture. I really love this flavour and it has definitely made it's way onto our macaron menu.
I have adapted the basic macaron recipe from
Mad About Macarons by Jill Colonna
, regular followers will know I use this basic recipe often and have adapted it in loads of different ways. I particularly like to use this recipe when I'm experimenting with flavours as it is so simple and I trust the recipe so much.
I highly recommend the book and you can visit Jill's brilliant blog
here.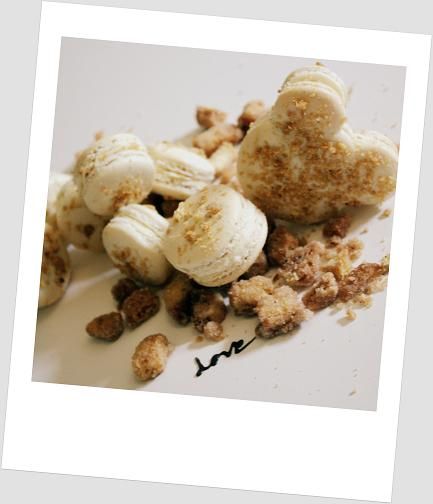 To Make the Maple & Cinnamon French Toast Macarons:
Makes around 30 macarons
180g ground almonds
270g icing sugar
1/4 tsp ground cinnamon
150g egg whites, room temperature
100g caster sugar
1/2 tsp maple extract
Blitz the Cinnamon Toast Crunch in a food processor, until you have a fine crumb.
Line 3 baking sheets with parchment paper and set aside.
Sift together the ground almonds, icing sugar and ground cinnamon and set aside.
Whisk the egg whites in a large mixing bowl until fairly stiff, but not dry, gradually sprinkle the sugar over the egg whites and whisk until very stiff and glossy. Add the maple extract and beat to combine.
Gradually fold in the sifted dry ingredients.
Using a rubber spatula work the mixture, pressing down with the spatula, pushing the air out of the batter. Repeat until you have a smooth mixture that falls in a long ribbon from the spatula and disappears back into the rest of the batter within 30 seconds
Pipe rounds onto your lined baking sheets. Rap the baking sheet hard on the counter top to flatten the batter and remove any air bubbles. Sprinkle the piped rounds with Cinnamon Toast Crunch Crumbs and let them sit for 15-30 minutes to form a skin.
Preheat oven to 150 C.
Bake the macaron shells for 12 - 15 minutes. Remove from the oven and slide the parchment off of the baking trays, let the shells cool on their sheets for 5-10 minutes before removing and placing on a wire rack.
To Make the Maple Buttercream:
100g unsalted butter, room temperature
150g icing sugar, sieved
3 tbsp maple syrup
Place the butter in a large mixing bowl and beat for 2 minutes until paler in colour. Add the icing sugar and maple syrup and beat for 5-7 minutes. The buttercream will be light, creamy and smooth.
To Assemble:
Pair up your macaron shells and pipe or spoon buttercream onto the flat side of one shell in each pair. Sprinkle Cinnamon Toast Crunch crumbs onto the buttercream you just piped and sandwich the macaron together with it's partner.
Repeat until all of your macarons are sandwiched together.
x x x