These cookies are so yummy!
I used my go-to cookie recipe, the same basic recipe I use to make my
Strawberries and Cream Cookies
to make these. The fresh raspberries give a wonderfully fresh, sharp and fruity edge to a beautifully chewy, creamy cookie and I have to say these cookies are definitely in my top 5 cookies of all time....ooh I think there might have to be a Top 5 cookies of all time blog post soon.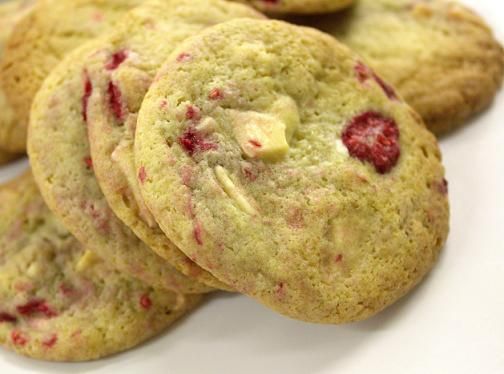 The fresh raspberries mean these cookies are best eaten on the day they are baked but trust me that won't be a problem. You can of course always shape some of the dough into a log, wrap in greaseproof paper and then cling film and freeze it for up to 1 month.
Raspberry & White Chocolate Cookies
Makes around 30 large cookies
375g plain flour
25g milk powder
1 tsp salt
1 tsp baking soda
225g unsalted butter, room temperature
125g brown sugar
125g caster sugar
40ml corn syrup
2 large eggs, room temperature
1 tsp vanilla extract
150g fresh raspberries, halved & quartered
125g white chocolate, chopped
Preheat your oven to 180C.
Line 3 cookie sheets with baking parchment and set aside.
In a large bowl, sift together the flour, milk powder, salt and baking soda. Set aside.
In the large bowl of a stand mixer or using a handheld mixer, cream the butter with the sugars and corn syrup until smooth, about 3 minutes.
Add the eggs one at a time, beating well after each addition. Continue to beat the mixture for a further 5 minutes, the mixture will become lighter in colour. Add the vanilla and mix well.
Add the flour mixture and mix just until fully combined. Very gently fold in the white chocolate chunks and chopped raspberries, insuring they are evenly distributed. Shape the dough into rounds and place on the prepared cookie sheets, leaving several inches between for expansion.
Bake for 10-12 minutes or until lightly golden brown.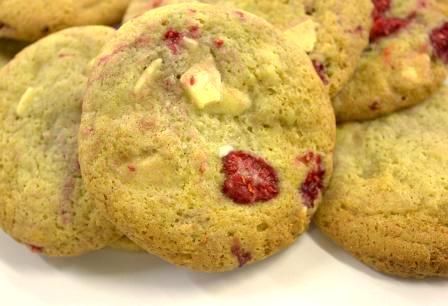 Mmm...cookies...