These scrumptious cookies are packed full of white chocolate and dried strawberry chunks, they are so delicious and definitely a new addition to my cookie rotation.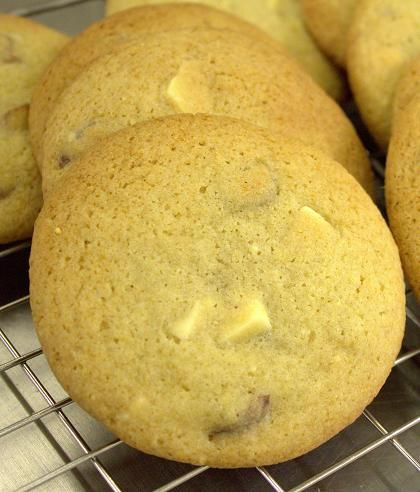 The dried strawberries are surprisingly easy to find and you should come across them in the dried fruit section of your supermarket. The strawberries I have used are the chewy, baked kind, as apposed to the freeze dried kind you find in many cereals. They taste gorgeous in the cookies, especially paired with the white chocolate.
I have also used milk powder in the cookie dough as I wanted to up the creaminess of the cookie and milk powder works a treat. Again you will definitely find this in all big supermarkets, near the long life milk. My nearest supermarket stocks 3 different brands of milk powder! I often wonder who on earth is buying it? Apart from me of course.
Milk powder is an amazing ingredient for bakers, just don't what ever you do mix it with water and drink it as per the instructions on the box!
Strawberries & Cream Cookies
375g plain flour
25g milk powder
1 tsp salt
1 tsp baking soda
225g unsalted butter, room temperature
2 large eggs, room temperature
75g dried (baked) strawberries
125g white chocolate, chopped
Preheat your oven to 180C.
Line 3 cookie sheets with baking parchment and set aside.
In a large bowl, sift together the flour, milk powder, salt and baking soda. Set aside.
In the large bowl of a stand mixer or using a handheld mixer, cream the butter with the sugars and corn syrup until smooth, about 3 minutes.
Add the eggs one at a time, beating well after each addition. Continue to beat the mixture for a further 5 minutes, the mixture will become lighter in colour. Add the vanilla and mix well.
Add the flour mixture and mix just until fully combined. Stir in the white chocolate chunks and dried strawberries, insuring they are evenly distributed. Shape the dough into rounds and place on the prepared cookie sheets, leaving several inches between for expansion.
Bake for 10-12 minutes or until lightly golden brown.

Deee-licious!