It has been so long!
I have to apologize for my lack of posts recently, I have been so busy at work that I haven't had the time or brain space for anything else. June is a really busy month at the bakery and I haven't stopped to take a breath in a while. Luckily things are going to slow down a little at the end of the month and I all will return to normal.
Today by way of apology I have a brilliant cookie recipe you're going to love.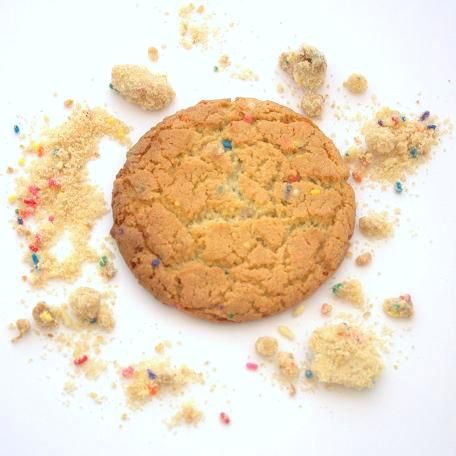 I made these delicious
Momofuku Milk Bar
cookies a while ago now but luckily they were so yummy I remember them perfectly. The cookie itself uses the same technique as a snickerdoodle cookie and the beautiful flavour evokes sweet childhood memories of funfetti cake mix.
These cookies had a beautifully crisp shell but were wonderfully chewy underneath and despite the fact that I am usually not a big fan of this style of cookie (I'm more a chocolate chip girl), I absolutely adored these. I would make them again in a heartbeat.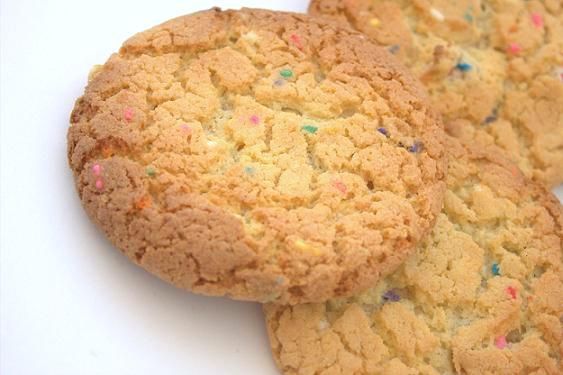 At
Momofuku Milk Bar
they use Bread Flour, as apposed to Plain Flour to make their cookies. This is because their cookies have such a high butter ratio and the added protein content of Bread flour helps to bind them together. After trying this amazing recipe, I definitely want to test this theory further and will try substituting my usual Plain Flour in some of my cookie recipes to see if I notice any difference.
Confetti Cookies
Makes 15 -20 large cookies
225g unsalted butter, room temperature
300g caster sugar
50g liquid glucose (or corn syrup)
2 large eggs
2 tsp vanilla extract
400g bread flour
50g milk powder
2 tsp cream of tartar
1 tsp bicarbonate of soda
1 1/4 tsp kosher or sea salt
40g rainbow sprinkles
Combine the butter, sugar and glucose in the bowl of a free-standing electric mixer fitted with the paddle attachment and cream together on a high speed for 2-3 minutes. Scrape down the sides of the bowl and add the eggs one at a time, beating well after each addition. Add the vanilla extract and beat the mixture on a medium-high speed for 7-8 minutes. (Do not cut corners here, it is this mixing process that gives these cookies their unbelievably perfect texture).
Sieve together the flour, milk powder, cream of tartar, bicarbonate of soda and salt. Reduce the mixer speed to low and add the dry ingredients. Add the sprinkles and mix just until the dough comes together. No longer than 1 minute.
Remove the bowl from the mixer and using a rubber spatula, gently fold in the
Birthday Cake Crumbs
, ensuring they are evenly dispersed. Do not over mix the dough.
Portion out the cookie dough and place the cookies on parchment lined baking trays. Allow plenty of space for the cookie to spread, at least 10cm. Wrap the trays tightly with cling film and refrigerate for at least 1 hour, or up to 1 week. Do not bake the cookies from room temperature - they will not bake properly.
Pre heat the oven to 180C.
Bake the cookies for 15-18 minutes or until lightly browned, they will puff up, crackle and spread.
Cool the cookies completely on their trays before transferring them to an airtight container to store. The cookies will stay fresh for 5 days at room temperature and 1 month in the freezer.
I have plenty of post piling up so I will be back soon with all sorts of goodies. In the meantime, make these cookies! You will love them, I promise.
x x x