This Jelly packs a huge punch in the flavour department, it tastes absolutely exquisite, beautifully bold, fresh and summery.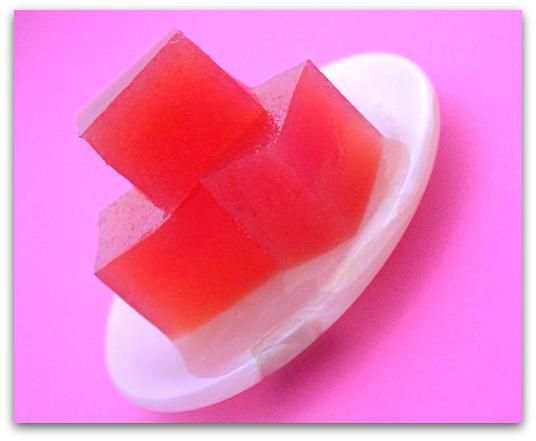 Not only is this Jelly absolutely delicious but it also looks fantastic, like big, juicy chunks of watermelon. It is an absolute breeze to make and will only take you about 20 minutes to whip up, just be sure to leave enough time for it to set.
Strawberry & Watermelon Jelly
400g strawberries, chopped
350g seedless watermelon, chopped
125g caster sugar
juice of 1 lime
2 tbsp gelatin powder
cooking spray
1. Using a food processor, puree the strawberries, watermelon, sugar and lime juice. Pour the mixture through a fine-mesh sieve into a measuring jug.
2. Pour 200ml of the mixture into a small saucepan and bring to a boil. Meanwhile pour another 200ml of the mixture into a large bowl and sprinkle the gelatin powder over the top; let stand for 1 minute. Pour the hot strawberry and watermelon mixture into the bowl and stir until the gelatin dissolves. Stir in the remaining strawberry and watermelon mixture from the measuring jug.
3. Spray an 8 inch square cake pan with non-stick cooking spray, wiping out the excess with a paper towel and pour in the strawberry and watermelon mixture. Skim the foam from the surface and refrigerate for a minimum of 4 hours, until set.
4. Unmold the jelly, invert onto a cutting board and then re-invert onto another cutting board. Cut the Jelly into squares using a sharp knife.
Enjoy!