Hi Everyone!
This is a slightly different kind of post for me so I really hope you all enjoy it.
I thought it would be fun to do a little collection of 'behind the scenes' photographs of things you don't normally get to see in my Buttercream Bakery blog posts.
Things like Cupcake Cases...
I now use cupcake cases is four different sizes, regular, small, mini and bite size.
We have lots, there are 7000 bite size cupcake cases pictured below.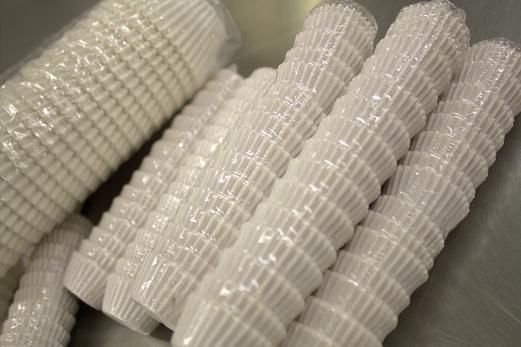 Vanilla Sugar
I use vanilla sugar in all of my cupcakes and so I have to keep a constant store going. My giant tubs of vanilla sugar are used in rotation, the tubs that are not in use, or rather still infusing are shaken up every couple of days and every vanilla pod I use is saved, dried and added to the tubs.
Chocolate
There is of course a lot of chocolate at Buttercream Bakery, we buy all our chocolate in buttons as apposed to slabs as it saves lots of time. Less chopping and quicker melting, it's the Buttercream Bakery way.
Chocolate Curls
Cupcake Boxes
Building cupcake boxes is probably the least enjoyable part of my job, particularly when you have to build about a hundred!
The mini cupcake boxes above were being built to house 900 cupcakes with miniature moustaches and 600 mojito cupcakes. I baked all 1500 cupcakes in one day, single handed!!
Below you can see a picture of the 900 mini moustache decorations....
Every single one handmade by me!
The order was for the Cambridge University Sidney Sussex May Ball. I was delighted to be asked to make cupcakes for the event and even more delighted to hear that the cupcakes were a huge hit.
Very Berry Macaron Mix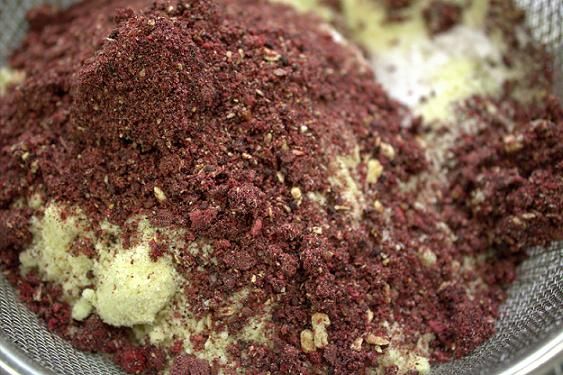 The above picture is of the dry ingredients for my Very Berry Macarons (recipe coming soon) before sifting. The mixture is made up of ground freeze dried berries, almonds and icing sugar.
Buttercream
Of course it wouldn't be Buttercream Bakery without the buttercream! Above is one of my all time favourites, delicious, super smooth Salted Caramel Buttercream.
Next post will be 100% cupcakes so don't worry if your thinking, why the hell do I want to look at pictures of cupcake boxes! I won't be posting many.
x x x