It feels like way too much time has past without any pictures of cake!
I have a lot of catching up to do and I thought I had better get started compiling some cake and cupcake posts. These cute mini cakes seemed like a great place to start.
I have been making more and more mini cakes over the last year and I am really enjoying having a new canvas for my sugar creations. This little Panda cake is one of my favourites, I absolutely love the fuzzy Panda and the gorgeous green bamboo set against the clean white backdrop of the cake.
The next cake in today's mini cake trio is equally as cute as the Panda cake above.
The little fawn is so sweet and very Bambi like, sitting atop a bed of flowers.
All of the cakes in this post are 2.5 inches in diameter, so the character are fairly small.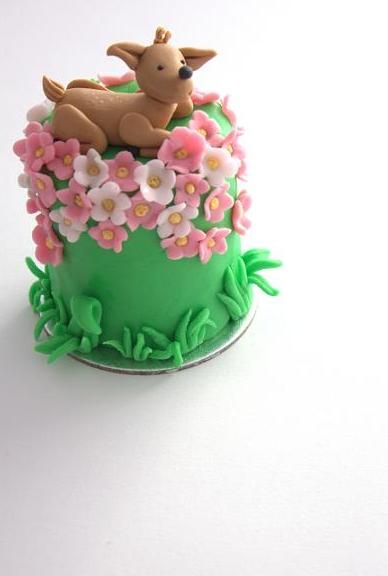 This next cake was made to look like a teddy bear sitting on top of a padded footstool.
Perfect for a little pink princess' birthday.
I'm hoping to have time to fit in a cupcake post tomorrow but just in case I don't, I hope you all have a fantastic weekend.
x x x