These are without a doubt my creamiest cookies yet!
Words simply cannot express how much I love this recipe.
The cookies are given an extra dose of creaminess with the addition of milk powder and grated white chocolate.
I used milk powder in both my Raspberry & White Chocolate Cookies and my Strawberry & Cream Cookies but I added white chocolate chunks instead of grated white chocolate. For these cookies I almost doubled the amount of milk powder in my original recipe and that combined with the grated white chocolate has made these the creamiest cookies of all time.
The cookie itself is super chewy, unbelievably flavourful and honestly, just dreamy. The blueberry flavour was everything I wanted, not sharp but sweet and unmistakably blueberry.
This recipe makes around 30 cookies depending on their size, if that is too many cookies for you, I recommend splitting the finished dough into two equal portions. Roll one portion into a log and wrap in greaseproof paper, you can refrigerate the log for up to a week and make fresh baked cookies when ever you like.
I found dried blueberries at my local supermarket so they shouldn't be to difficult for most of you to find. Milk powder is stocked in most supermarkets too, you will most likely find it next to the long life milk.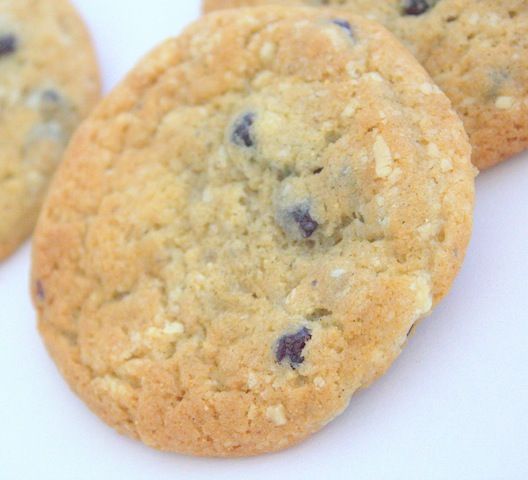 Blueberry and Cream Cookies
225g unsalted butter, at room temperature
40ml liquid glucose or corn syrup
100g white chocolate, grated and refrigerated until needed
Place the blueberries in a fine mesh sieve, holding the sieve over the kitchen sink carefully pour boiling water over the blueberries to soften. You want to pour around 300ml of boiling water once over the berries, too much and you risk losing some of the flavour. Once all of the water has drained off place the sieve over a bowl and set aside.
Sift together the flour, milk powder, salt and baking soda and set aside.
In a large mixing bowl cream together the butter, both sugars and the liquid glucose (or corn syrup), for 2-3 minutes.
Add the eggs one at a time, beating well after each addition.
Add the vanilla paste and beat until evenly distributed.
Gently fold in the the flour mixture, followed by the blueberries, ensuring they are evenly dispersed throughout the dough.
Remove the grated white chocolate from the fridge and fold into the dough.
Cover and refrigerate the cookie dough for 2 hours.
Preheat the oven to 180C, (160C fan oven).
Line two baking trays with baking parchment.
Shape the dough into rounds and place on the prepared cookie sheets, leaving several inches between for expansion.
Bake for 10-12 minutes or until lightly golden brown. Allow the cookies to cool on their trays for a few minutes before removing to a wire rack to cool completely.
Store the cookies in an airtight container for up to 3 days.