I simply love these cookies and if you haven't tried salted chocolate yet then this is a great place to start.
I myself have been addicted to salty-sweet for as long as I can remember. As a kid I always used to eat bags of salt & vinegar crisps with Mars bars, combining the the salty crunch of the crisps and smooth, sticky, sweetness of the caramel and chocolate into one deliciously addictive mouthful.
These days I'm marginally more refined.....I hope!
And although I often crave the salt & vinegar crisps and Mars bar combo, I don't go there...often.
Instead my salty-sweet cravings are satisfied by glorious cookies like these and all too frequent salted caramel treats.
You may not be a salty-sweet fan like me and the reason I say these cookies are a good place to start is because the cookie itself is perfectly salted but not overly so. You can then control the amount of additional salt you sprinkle on top of each cookie before you bake. So you can make the saltiness as subtle or as bold as you like.
These cookies are beautifully moist, chewy and chocolatey, almost impossible to resist.
Mr. P. who usually gets pretty annoyed with me when I sprinkle salt on sweet treats ate almost all of these, leaving none for me! That is the exact reason I eat half a batch before he comes home....
Salted Chocolate Chocolate Chip Cookies
175g plain flour
50g cocoa powder
1/2 tsp salt
1/4 tsp bicarbonate soda
225g unsalted butter, room temperature
100g caster sugar
75g light brown muscovado sugar
3 tbsp milk
1/2 tsp vanilla paste
100g dark or milk chocolate chips
fleur de sel or sea salt to sprinkle
To Make the Cookies:
In a medium bowl, sift together the flour, cocoa powder, salt and bicarbonate soda and set aside.
Using a mixer, beat the butter together with both sugars until smooth and creamy.
Add the milk and vanilla paste and beat until fully combined.
Add the flour mixture and with the mixer on the lowest speed, beat until just combined.
Fold in the chocolate chips.
Scoop the dough onto the centre of a large sheet of baking paper and shape into a long log, around 1.5 - 2 inches thick.
Place the cookie dough log in the refrigerator for 2 hours.
Preheat the oven to 170C.
Line two baking sheets with baking paper.
Remove the dough from the refrigerator and using a sharp knife, slice the cookie dough log into 1/2 thick rounds. Place onto the prepared baking trays, sprinkle each round with fleur de sel or sea salt and bake for 10 minutes.
Allow the cookies to cool for a few minutes on their baking sheets before transferring to a cooling rack to cool completely.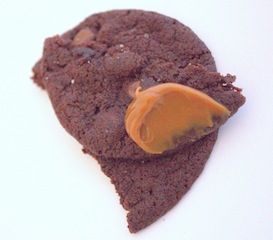 These cookies are particularly spectacular when used to scoop up copious amounts of caramel.
Enjoy
x x x