I love biscotti and what is better than biscotti...?
Adorable mini biscotti of course!
This recipe is super simple and can be adapted in so many different ways. Omit the apricot and add chopped pistachios and dried cranberries instead, or up the orange zest and add dark chocolate chips. I also think dried blueberries and white chocolate chips would be gorgeous. You can pretty much add any dry ingredients, so go crazy.
This biscotti recipe makes beautifully crisp, crumbly biscotti, the biscotti crumbles as soon as you bite the cookie, so no rock hard, break your teeth biscotti here.
I always bake loads of biscotti at Christmas and give them to people in big glass jars, biscotti will keep for up to one month, so it makes a fantastic gift.
Apricot & Almond Biscotti
115g unsalted butter, room temperature
75g vanilla sugar (or caster sugar), plus extra for rolling
95g light brown sugar
zest of half an orange
2 large eggs
250g plain flour
1 tsp baking powder
1/4 tsp salt
75g ground almonds
75g dried apricot, chopped
Preheat your oven to 190C (375F).
In a large mixing bowl beat the butter with an electric until creamy. Gradually add both sugars beating continuously until fully combined. Add the orange zest and beat to combine.

Add the eggs one at a time, beating well after each addition.
Sift together the flour, baking powder, salt and ground almonds. Add to the butter mixture, beating at a low speed just until blended. Fold in the dried chopped apricots.
Sprinkle a clean work surface with vanilla sugar (or caster sugar). Divide the dough into three equal pieces and roll each portion into a log around 1.5 inches wide and 1 inch high.
Place all three logs onto a large, lightly greased baking tray, leaving space for the logs to expand.
Bake the logs for around 20 minutes or until they feel firm and dry.
Remove the biscotti logs from the oven and cut each log on a slight diagonal into slices.
Place the biscotti slices onto a clean, ungreased baking tray and bake for around 4 minutes; turn all the biscotti over and bake for another 4 minutes. The biscotti should feel totally dry in the centre but not completely hard, the cookies will firm up once cool.
Remove the biscotti to a wire rack to cool completely.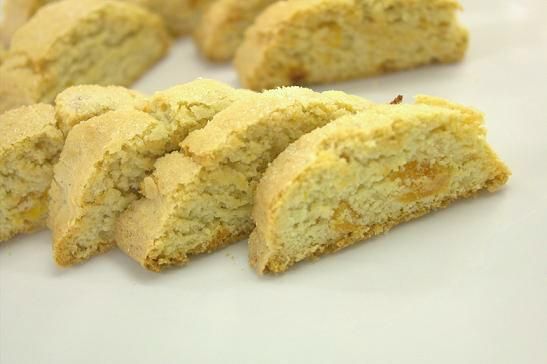 Enjoy!