I hope you are all having a great time planning and preparing for all the Christmas festivities. I don't know about you but no matter how early I start planning or how organised I try to be, Christmas always sneaks up on me and suddenly we are days away from the big event and nothing is ready!
I'm trying not to panic but time is flying and I need to get moving!
I've been really busy with all sorts of Christmas cuteness and also some not so Christmassy cuteness. As always Buttercream Bakery has been full of teddy bears and this little one below is one of my favourites.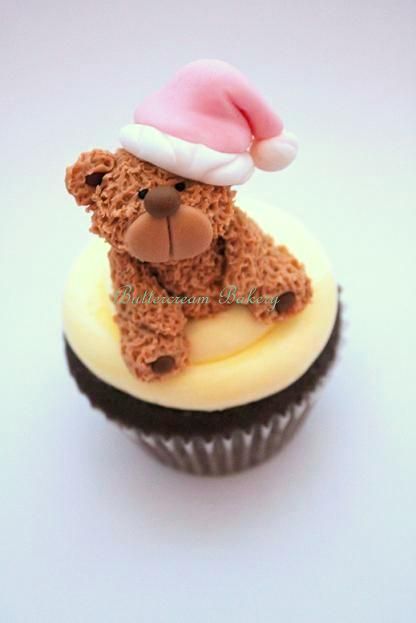 I think he looks a little grumpy which only makes him more endearing and I love to give my bears a fuzzy texture, it makes them look super cuddly.
I've been frantically smashing candy canes into delicious rubble and stamping out a million little Christmas trees to decorate scrumptious cupcakes with.
These Vanilla Cupcakes with Cream Cheese Frosting and Peppermint Candy Cane Sprinkle are so ridiculously yummy! I ate three just to make sure.
More adorable Christmas teddy bears complete with Santa hats, the one above in full Santa regalia, even has a tiny little present.
As I said though, it hasn't all been Christmassy.
I always find it quite difficult changing gear mid festive season and making something completely unrelated, like...oh I don't know...aeroplanes? You get into a Christmas zone, it is hard to step out of but great to have a break and make something different.
Not a Santa hat in sight.
I made these cupcakes for an aeroplane themed 4th birthday and I have to say I love them.
The Vintage Pilot Teddy Bear is so adorable I am going to put him up for sale in our new Etsy shop and I love the little aeroplanes more than I ever thought I could, I didn't think I was an aeroplane sort of girl.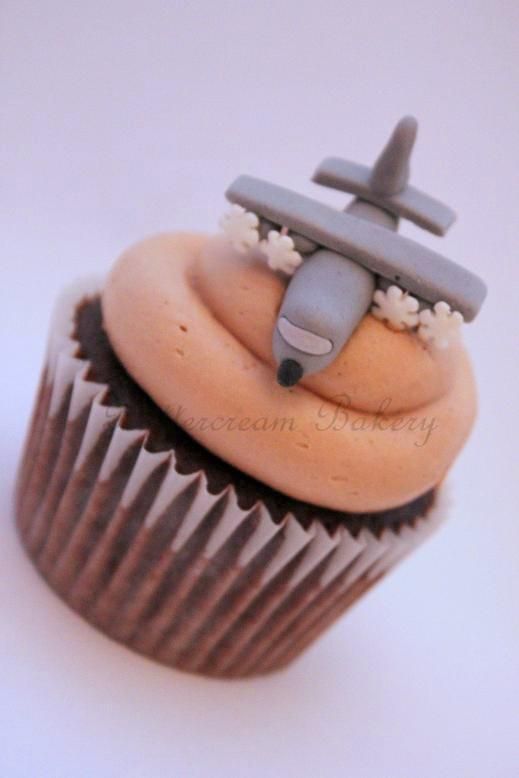 So cute!
Speaking of cute...
This adorable little puppy is so sweet and just crying out for a tummy tickle! I had never made a puppy topper in this possition before but I love it and have plans for all sorts of 'tickle my tummy puppies'.
Last but by no means least, the main man himself...
Santa!
This years Santa toppers are adorable, Santa is all rosy cheeked and giggling beneath his bushy white beard and fetching moustache.
I will try and fit in a few more posts in the coming week, I have some delicious Christmas fudge to tempt you with and plenty more Christmas cupcakes and mini cakes to show you.
Have a fantastic weekend.
x x x