After my Buttercream Bakery
puppy cake topper round up
, I knew I had to do one for all of our teddy bear cake and cupcake toppers.
It took me a lot longer to compile these pictures than I would like to admit, of course it would help if I organised my photographs in a more sensible manner. Alas that type of computer-y organisation just does not come naturally to me.
What does come naturally to me...? Making edible teddy bears of course!
I make more teddy bears than anything else and as you will see there are so many little variations that make each little bear totally unique.
The size and shape of the eyes, ears and nose are as far as I'm concerned where 90% of a bears personality comes from.
I add all sorts of little details and embellishments to our bears, blushing cheeks, bows, clothes and stitching can all help bring your little bear to life.
Here we have a Baking Bear, a Pair of Bears, a Blushing Bear and a Vintage Pilot Teddy Bear.
As you can see the bears in the pictures above have different textures, I create the fuzzy bears (like the pilot and baking bear) by using a toothpick to pull away at the fondant.
I love the fuzzy look.
Lots of little fuzzy bears.
At Buttercream Bakery we love bears with attitude, these Biker Bears are a favourite of mine.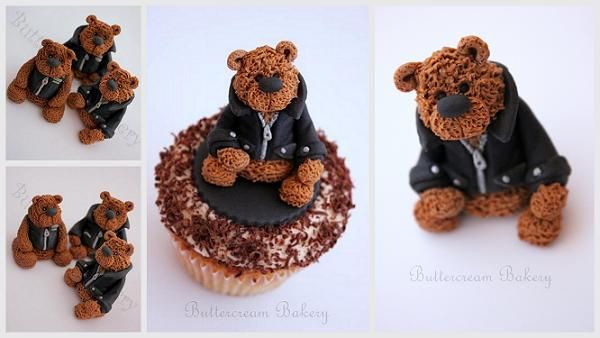 I also make lots of scary bears, ever since I made the original Buttercream Bakery Zombie Bear, I have had endless zombie bears on order.
People love a scary bear.
These are some of my latest Zombie Bears....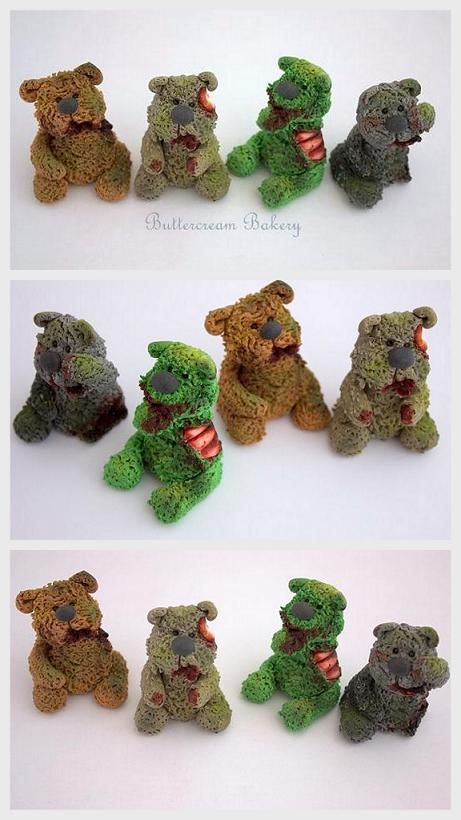 I hand paint all of the gory details on each bear after sculpting, I love to watch each bear turn from a tatty teddy bear with missing limbs into full on killer zombie bear. You would be surprised it really doesn't take much, a little dab of red here, a little dab of brown there...
Above is my original zombie bear (in green), all of his stuffing is coming out and he is missing an eye! Poor zombie bear. As you can see my original zombie bear was a lot tamer than the new gory ones.
If zombie bears weren't scary enough I have also been known to create a headless ted or two...
The tiny little mob of zombie bears above is one of my all time favourite cupcake toppers.
The tiny zombie bears were around 1.5-3cm tall and the finished cupcake looked so awesome.
Next up Panda Bears!
Who doesn't love a Panda?
Above are a selection of sculpted fondant Panda bears and one adorable cupcake with a Panda bears face hand piped in buttercream.
I make bears in loads of different colours, obviously you have teddy bear brown but I also like to use lighter and darker browns, greys, blues, pinks and even in the case of zombie bears green.
Above you can see a couple of bears with coloured noses. Most often I use black or brown for a bears nose but I also make bears with blue and pink noses.
Tiny little teddy bears...
Tiny is my thing and nothing says Buttercream Bakery like a miniature teddy bear.
I particularly like to top big buttercream laden cupcakes with tiny little bears.
The cuties above are relatively new to Buttercream Bakery, I love the adorable ballerina bear, in her pretty pink tutu and the adorable little guy in bunny ears, he was and will probably now always be, an Easter favourite.
Of course my teddy bear round up will never really be fully round up, I have a sailor bear drying in my sugarcraft studio as we speak and a fairy bear to make tomorrow.
My job is so cool!