I have a totally scrumptious recipe for you today.
Seriously, prepare yourself for new realms of deliciousness.
This is definitely one of my favourite cupcake recipes, the cinnamon and maple sponge cake is so beautifully light and fluffy, the silky smooth vanilla bean cream cheese frosting is quite simply the stuff dreams are made of and each gorgeous little cupcake is finished with a generous dusting of cinnamon sugar.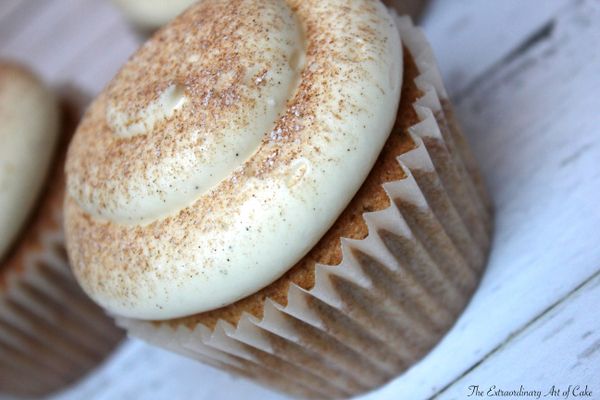 I created this recipe for Buttercream Bakery after trying a number of delicious French Toast cupcake recipes, while most were totally scrumptious many resulted in slightly sunken cupcakes.
These cupcakes rise beautifully, have never sunk on me and are packed full of flavour.
Make sure all of your ingredients are room temperature before you start baking, read the recipe all the way through before you begin and allow your cupcakes to cool completely before you frost them.
Buttercream Bakery French Toast Cupcakes
110g unsalted butter, room temperature
Preheat the oven to 170C.
Line a 12 hole muffin tray with cupcake cases and set aside.
Combine the maple syrup, milk, sour cream and vanilla paste in a small saucepan. Place the pan over a low heat and warm the mixture gently, whisking occasionally, until all the ingredients combine. Remove from the heat and set aside.
Sift all the dry ingredients together into a medium bowl and set aside.
In a large mixing bowl, beat the butter and sugar with an electric mixer, until light and fluffy, 2-3 minutes.
Add the egg yolks and beat until fully combined.
Add half of the flour mixture and gently fold into the batter. Add the liquid ingredients and beat with and electric mixer just until combined. Add the remaining flour and beat the mixture just until smooth, no more than 30 seconds.
Whip the egg whites in a medium mixing bowl with an electric whisk, until soft peaks form. Gently fold the egg whites into the batter, until no streaks of white remain.
Divide the batter evenly between the 12 cupcake cases and bake for 18-20 minutes or until well risen, golden brown and a toothpick inserted into the centre comes out clean.
Vanilla Bean Cream Cheese Frosting
130g unsalted butter, room temperature
In a large mixing bowl, with and electric mixer, beat together the butter and sugar until smooth and creamy. Add the cream cheese and beat until fully combined. Scrape down the sides of the mixing bowl add the vanilla paste and continue to beat for 2-3 minutes.
Sift the cinnamon and icing sugar together into a small bowl.
Fit a piping bag with a plain round piping tip and fill with the vanilla bean cream cheese frosting. Pipe swirls of frosting on top of each cupcake and using a sieve, sprinkle generously with cinnamon dusting sugar.