Hello Everyone!
I can only hope that wherever you are, you too have been blessed with a sudden flurry of beautiful sunny days that can only be described as, (dare I say it), summer!
After a bitterly cold winter that seems to have lasted for a painfully long eight months, I am fairly certain I am not the only one rejoicing and basking in the sun between bakes.
My strawberry, carrot, chilli and tomato plants have also been getting seriously sick of the rain and have been in desperate need of some sunshine for a while now.
Since I had long given up any hope of summer ever turning up, I haven't got a very summery recipe for you today but please don't hold that against these delicious little blueberry pie bars, they are utterly scrumptious and really easy to make.
They consist of a crisp biscuit base, a gooey blueberry studded centre and a top layer of delicious crumble.
They are simply gorgeous!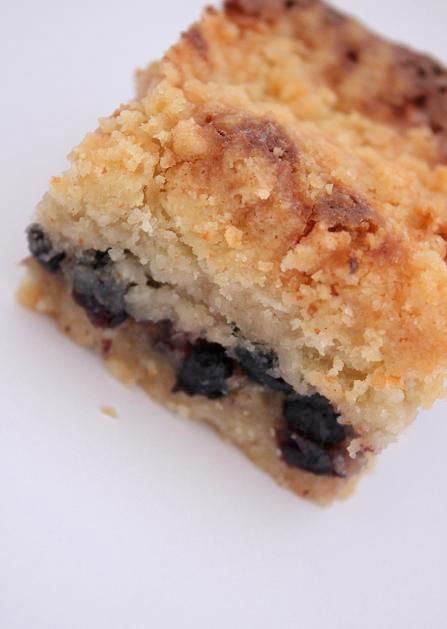 Blueberry Pie Bars
For the Crust:
180g plain flour
25g ground almonds
170g unsalted butter
170g caster sugar
1/4 tsp salt
For the Filling:
170g dried blueberries
30ml boiling water
2 large eggs
225g caster sugar
1/2 tsp vanilla paste
125ml half fat creme fraiche
50g plain flour
8 inch square cake tin, greased and lined or sprayed with non stick baking spray.
Preheat the oven to 170C.
Combine the flour and ground almonds. Cut the butter into 1/2 inch cubes and add to the flour.
Rub the butter into the flour until the butter is evenly distributed and the mixture is crumbly and beginning to clump together. Add the sugar and salt and rub into the flour and butter mixture insuring all of the sugar is fully combined and evenly distributed.
Weigh out 225g of the crust mixture you have just made and set aside.
Press the remaining crust mixture into the base of your prepared cake tin, ensuring the crust is even and level.
Bake the crust for around 8-10 minutes or until very lightly golden brown.
Remove from the oven and allow to cool completely.
Place the dried blueberries in a small bowl and pour the boiling water over the blueberries, mix to combine and set aside.
Whisk the eggs in a large bowl, add the sugar gradually, whisking continuously. Add the vanilla extract and whisk to combine. Add the cream fraiche and plain flour and mix just until combined. Fold in the blueberries.
Pour the filling over the pre-baked crust and sprinkle the top evenly with the reserved crust mixture.
Bake for 35-40 minutes or until golden brown on top.
Allow the blueberry pie bars to cool for a minimum of 1 hour before removing from the cake tin and slicing.
Enjoy!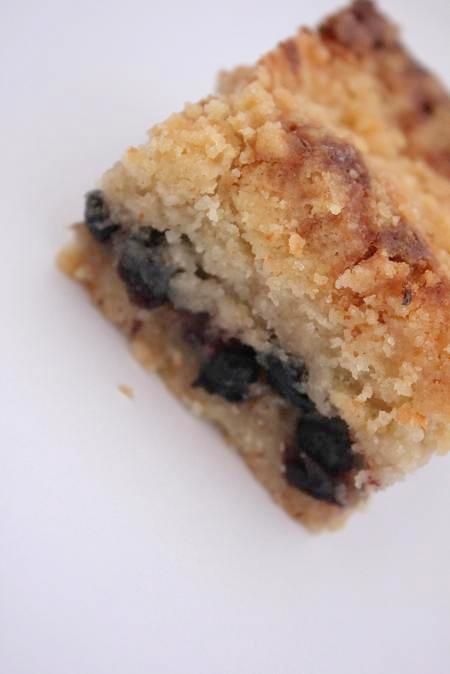 Here is a little sneak peak at one of my strawberry plants. I have never grown anything before but this year we have planted loads of goodies.
I already have a plentiful supply of home grown herbs and chillies and as you can see the strawberries are coming along too.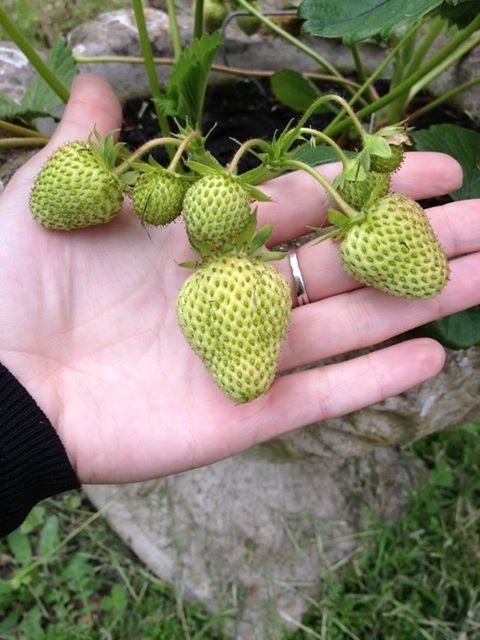 Strawberry Tarts are a matter of weeks away!
We will also be getting our chickens in the next month or so and I can't tell you how excited I am. Their enclosure has been built, we've chosen the coup and have been to look at some gorgeous chickens. We are starting relatively small but the aim is that soon all Buttercream Bakery cupcakes will be made with eggs straight from our own little farm.
If you don't already you can follow me on twitter @AstraldelaMare and on Instagram @buttercreambakery, I have been and will continue to post lots of progress pictures. So if you like to watch strawberries grow, that might be one for you.