I am so glad that today's post is Christmas centric because I am feeling seriously festive right now.
I have been freezing my butt off in the kitchen all day making adorable little toppers but I'm home now, snuggled up on the sofa next to a roaring fire with a cup of tea and a gingerbread cupcake. I honestly can't think of anywhere in the world I would rather be.
I have some lovely new Christmas cupcakes to show you today and as you all know, Christmas cupcakes are always my favourite cupcakes to bake and make. I'm basically a little ball of magical, festive excitement from the second Halloween is over right up until well after Boxing Day and for me, n
othing makes it feel more like Christmas than making some adorable Christmas cupcakes.
I thought I would start this years Christmas Cupcake posts with something a little special...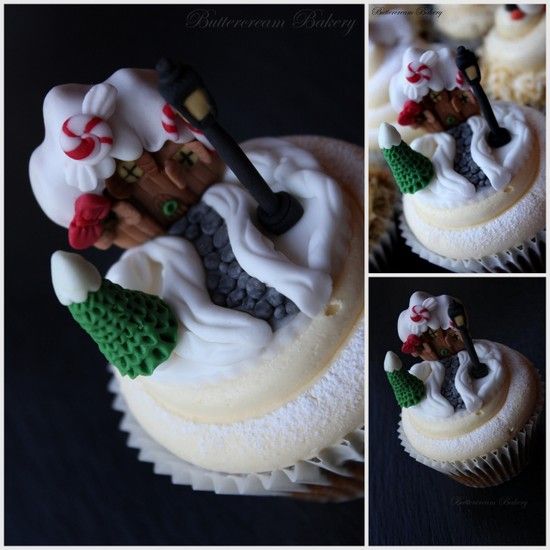 Buttercream Bakery Miniature Gingerbread House Cupcake
It just wouldn't be Christmas without a Buttercream Bakery miniature Christmas scene cupcake and this one is truly adorable.
I love the snowy little candy covered gingerbread house, the cobbled pathway and the adorable little lamppost.
Buttercream Bakery Penguin and Polar Bear Cupcakes
I decided to go for a bit of a North Pole theme for all our Christmas toppers and cupcakes this year. I showed you Santa, Mrs Claus, our cute little elves, penguins and polar bears last week. This week the penguins are back but this time they are accompanied by an entirely different set of polar bears.
The last polar bear cake toppers I posted were what I would describe as teddy bear polar bears, these little polar bears are much more realistic and I have to say I absolutely love them.
Buttercream Bakery Polar Bear Cupcake
Our little realistic polar bear cupcake toppers are modelled from a single piece of fondant, no fondant is added, stuck on or taken away. I just start with a little ball of fondant and shape the entire polar bear in one go, body, legs, head and ears adding only eyes and a nose at the end.
I just love his little face!
All of our normal cupcake flavours are available throughout the holiday season but we also introduce a few seasonal flavours at this time of year.
Buttercream Bakery Christmas Cupcake flavours include, Gingerbread, Cranberry White Chocolate, Chocolate Peppermint and Rum Coconut Snowball.
I love, love, love, Christmas cupcake flavours!