I cannot believe it is only two weeks until Christmas!
I don't know about you but I always feel somewhat smug and super organised at the end of November and then just a couple of weeks later I'm seemingly behind with everything!
I've been so busy at the bakery, making and decorating cakes for all our lovely clients, that I haven't really had time to do anything festive at home and there is so much to do!
All the presents need wrapping, the fudge needs making, the biscotti and forgotten cookies need baking and some serious mulled wine needs drinking!
I'm a busy little Christmas bee and I have not one but two posts to get up today so I best get a move on!
This adorable cake topper set, features everyone's favourite new Christmas characters...
Bear and Hare!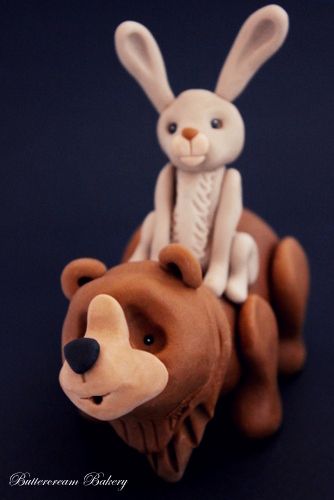 I don't know how John Lewis do it!
Every year their Christmas advert has me crying like a baby and this year's advert is probably their best yet.
These adorable little characters have totally captured everyone's imagination, including mine.
I have a feeling these adorable little woodland critters will be a firm Christmas favourite for many Christmases to come.