I am having the most fabulously festive day! Today my three little bunny rabbits arrived!!
My little bunnies, Cupcake, Blitzen and Pingu have already settled in really well and all three of them have been hopping around the farm, nibbling grass all day. You can see some pictures on my twitter page, you can find me @AstraldelaMare.
My bunnies are not the only reason I feel so fabulously festive today, I'm also really excited to finally share this delicious and utterly adorable recipe with you.
Despite looking absolutely awesome these Cookies and Cream Polar Bears are actually really simple to make.
Silky smooth white chocolate mousse is moulded into half spheres and placed atop a delicious chewy oatmeal raisin cookie. My little mousses are decorated with a white and milk chocolate details to create a bears face. I use white chocolate buttons for the ears and hand pipe the eyes and nose.
These delightful little cookies and cream desserts are sweet and subtle enough to please even the most picky little ones and yet decedent enough to satisfy even the most discerning big ones.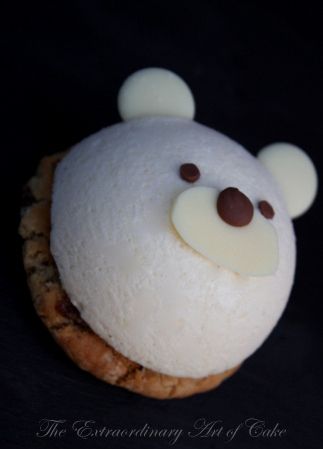 A few notes on the recipe:
I use fantastic silicone semi sphere moulds to make these little bears, I got mine from
siliconemoulds.com
This recipe makes 8 bears so you will need two 6 cavity semi sphere moulds, or you can always just make 6 bears and place the mousse you have left over in jars or glasses and serve with crushed biscuits.
The Oatmeal Raisin Cookies I have used in this recipe are the best cookies ever! Honestly they are so delicious and the only cookie my OH ever asks for.
You will only need 8 cookies for your polar bears so you will have some cookie dough left over. The remaining dough will keep in the refrigerator for up to a week and in the freezer for 1 month.
To Make the White Chocolate Mousse:
Makes 8 Polar Bears
165g white chocolate
1 medium egg
2 medium egg whites
2 tbsp caster sugar
200ml double cream
8 x semi sphere moulds measuring approx. 7cm
Melt the chocolate in a heatproof bowl over a pan of barely simmering water. Remove from the heat and stir until smooth. Set aside to cool.
In a separate bowl whisk together the whole egg and 1 tbsp of the caster sugar with an electric mixer, until pale. Add the vanilla and beat to combine.
In a separate, large mixing bowl, whip the cream to soft peaks.
Gently fold in the melted chocolate and whipped cream into the egg mixture.
In a separate bowl, whip the egg whites to stiff peaks, add the remaining 1 tbsp of caster sugar and whisk to combine.
Gently fold the egg whites into the egg, chocolate and cream mixture.
Divide the mixture evenly between 8 half sphere molds, place the moulds on a baking tray, cover and freeze until the mousse is solid.
To Make the Chewy Oatmeal Raisin Cookies:
230g plain flour
1 1/2 tsp baking soda
11/2 tsp baking powder
1/2 tsp salt
1/2 tsp cinnamon
170g unsalted butter, melted
165g brown sugar
100g caster sugar
1 medium egg
1 medium egg yolk
1 tsp vanilla paste
125g rolled oats
150g raisins
Please note: the unbaked cookie dough will keep for up to 1 week in the refrigerator or 1 month in the freezer.
Preheat the oven to 170C
Line two cookie trays with baking paper and set aside.
Melt the butter and allow to cool slightly before proceeding.
Sift together the flour, baking soda, baking powder, salt and cinnamon, set aside.
In a medium mixing bowl, cream together the melted butter and both sugars. Add the egg and egg yolk and beat for 2-3 minutes. Add the vanilla paste and mix until combined.
Add the flour mixture, oats and raisins and mix just until blended.
Transfer the dough onto a sheet of greaseproof paper and roll into a log. Refrigerate the cookie dough log for 1 hour.
Once chilled roll heaped teaspoonfuls of the dough into balls, place them on the prepared cookie trays and flatten slightly.
Bake the cookies for 12-14 minutes or until the edges are golden brown but the centres are still slightly soft.
Allow the baked cookies to cool on their trays for a few minutes before placing on a wire rack to cool completely.
To Assemble the Cookies and Cream Polar Bears:
You will need:
16 x white chocolate buttons
4 squares white chocolate
2 squares milk chocolate
8 x Oatmeal Raisin Cookies
Once your semi sphere mousses are completely chilled, place a cooled cookie on the flat side of each semi sphere and push each one out of its cavity.
Place the mousses, cookie side down onto a baking tray lined with baking paper.
Lay out a sheet of baking paper on the counter top and melt the white chocolate. Place the white chocolate in a disposable piping bag, snip off the end and pipe 8 ovals for each polar bear's muzzle. The muzzle should be approximately twice the size of a chocolate button. Allow the chocolate to set.
Peel the baking paper away from the white chocolate muzzles and place them smooth side up on the centre of each dome of mousse.
Transfer the melted milk chocolate to a disposable piping bag, snip off the end and pipe a small brown nose on the top centre of each white chocolate muzzle. Pipe two small dots of milk chocolate for the eyes and push two white chocolate buttons into each semi sphere of mousse to create the bears ears.
Cover the tray and refrigerate the polar bears until soft and defrosted, around 2 hours.
The cookies and cream polar bear mousses will keep for 2 days in the fridge.
Enjoy!