Boy do I have something cute to show you today!
I'm really quite excited to show you all my latest creations and the newest addition to the Buttercream Bakery menu....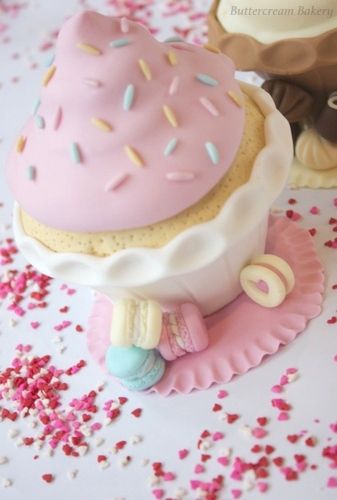 Cupcake Cakes!
Our cupcake cakes are around twice the size of a standard cupcake and feature one XL cupcake iced with delicious buttercream frosting and decorated with fondant icing.
Each Cupcake Cake measures approximately 6 inches tall and 4 inches at the widest point.
Our Cupcake Cakes will be available in a whole host of designs, colours and styles and can be topped and decorated with all of your favourite Buttercream Bakery characters.
The pink Cupcake Cake is called Sugar and Sprinkles, it features a vanilla cupcake topped with baby pink 'buttercream' and decorated with pastel sprinkles. The pretty pink base is decorated with a trio of mini macarons and tiny sandwich cookie with heart shaped cut out.
Our Chocolate Lovers Cupcake Cake features a chocolate cupcake decorated with vanilla buttercream, drizzled with chocolate and adorned with little milk and white chocolate heart shaped sprinkles. The base is coloured to match the shade the fondant used to create the buttercream and is decorated with a pile of little fondant chocolates.
I will be back very soon with our latest Better for you Bake, until then Happy Cupcake Caking!
x