Hi everyone!
What a week it's been and I say that knowing full well that it is only Wednesday.
As I have been M.I.A since my New Years cupcake round up I thought I had better move my little butt and get some cupcake cuties posted before the week is out.
There has been a touch of magic in the air at Buttercream Bakery.
We've had stars twinkling and bunny rabbits popping out of top hats all over the shop.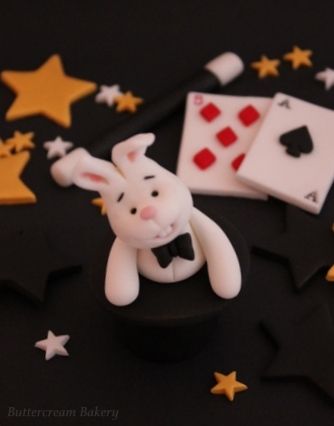 This little set of magic themed cake toppers were great fun to make and I love the whole little set. That little bunny in a bow tie is just adorable.
Since Buttercream Bakery began selling cake and cupcake toppers I have had the opportunity to make so many new and exciting designs. I have always loved making cupcakes for children and I'm loving all the children's birthday cake topper sets I get to make these days. My clients come up with brilliant themes and ideas, I just wish I could go to some of the parties!
I promise to get back on my blogging track as soon as possible, I'm working on my FAQ post and I have not one but two seriously delicious better for you bakes coming up. I have also been working on a little tutorial for you all, I'm not quite finished yet but I'm getting there so it won't be too long now.
I have some seriously exciting cakes to whip up over the weekend too, it is something new for me and I can't wait to hear what you all think!
x