I designed this little miniature patisserie cupcake topper taking inspiration from my favourite patisserie, Ladurée.
The most complicated part of this tutorial is adding the decoration to the little pink three tier cake. It is not that it is particularly difficult, just a little fiddly. I recommend taking it slow and having a tea break half way through.
Before you start, here are a few notes:
You can affix all of your pieces using vodka or edible glue.
The alcohol in the vodka evaporates so you do not need to worry about tasting it. If using vodka, I recommend using a very small paintbrush, dip it in vodka and pat of any excess liquid on a paper towel before brushing your decoration along the area you wish to affix. Less is more, use vodka or edible glue sparingly, you will not need much.
I have given measurements and weights where possible. I use a small set of spice scales to weigh out my sugarpaste. These measurements are only a guide however and you can definitely make these decorations without weighing the sugarpaste. Just keep comparing pieces to ensure continuity of size.
When you are not using your sugarpaste be sure to seal it in airtight containers otherwise it will dry out and become unusable.
You will more than likely have a little sugarpaste left over at the end of this tutorial, save it for later
use.
Work on a clean surface, a silicone mat is ideal but you can lay out a sheet of greaseproof paper if you do not have one.
Use a little cornflour to dust the surface of greaseproof paper when rolling out sugarpaste to avoid sticking. Again less is more, dust sparingly. You can clean any cornflour marks off of the sugarpaste using a vodka dipped paintbrush, make sure the sugarpaste is dry before you do this.
Wash your hands regularly and keep all of your tools clean to avoid transferring colours or small dust particles etc.
Allow the topper to dry completely before moving or using to top a cupcake.
Read the tutorial all the way through before you begin.
To make this miniature patisserie cupcake topper you will need:
25g light green sugarpaste
25g light pink sugarpaste
round cutter measuring 5cm in diameter or homemade template
rectangular cutter measuring 4cm x 2cm or homemade template
Step 1
Roll out with a small rolling pin 25g of light green sugarpaste and using a round cutter or template, cut out a circle measuring around 5cm in diameter.
Set the circle aside to dry and store any left over sugarpaste for later use.
Step 2
Take 7g of light pink sugarpaste, roll into a ball and flatten into a plump disk. Repeat with a 3.5g piece of light pink sugarpaste, followed by a 1.5g piece of light pink sugarpaste.
You will now have three plump pink disks.
Stack the disks on top of each other, biggest at the bottom and smallest at the top.
Fix each one into place on the top centre of the disk below, using a small dab of vodka or edible glue.
You should now have something that looks like a little pink three tier cake.
Step 3
You now need to decorate your cake.
Start by creating the 'frosting' along the base of each cake layer.
Roll out three long thin threads of white sugarpaste, each one should be long enough to wrap around the base of each tier.
Wrap the longest thread of

sugarpaste

around the base of the largest cake tier and affix in place with a small paintbrush dipped in vodka or edible glue. Use a small scalpel to trim off any excess if necessary.
Repeat with the two remaining lengths of white sugarpaste and the remaining tiers of your little cake.
Using the blunt side of a scalpel, mark the white

sugarpaste,

at regular intervals as shown below.
Continue until all of the white threads are marked all of the way around.
Now you need to create the swag effect.
Take another piece of white sugarpaste and roll out another three long thin threads, one approximately 12cm in length, one approximately 9cm in length and one approximately 7cm in

length

.
Shape each thread into a wave shape as shown, curving the sugarpaste downward creating little semi circles and bringing back up into raised points.
You will need to create 6 semi circles for the base tier of your cake with the longest thread of sugarpaste, 5 for the middle tier with the 9cm thread of sugarpaste and 4 for the top tier with your shortest 7cm thread of sugarpaste.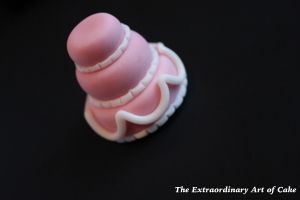 Affix the entire length of each thread around the corresponding layer as shown, taking care to maintain the shape.
Once you have completed the swag for each tier you will need to make the little tear drop shapes that sit in between the semicircles or loops of swag you have just created.
Simply take 1g of white sugarpaste and divide into 15 equal pieces. Shape each piece into a teardrop and
use a small paintbrush and a dab of edible glue or vodka to affix one teardrop
at the point each semi circle of swag meets the next (the

peaks or high points of your wave)

.
You will need 6 teardrops for the base tier, 5 teardrops for the middle tier and 4 teardrops for the top tier.
Inspect the little layer cake from all angles, insuring that all the detail is nice and even. If you do need to adjust anything do so with a small paintbrush.
Set the little cake aside to dry.
Step 5
Now you need to make the little rectangular layer cake slices.
Take 10g of brown sugarpaste and roll out to around the thickness of a 2p coin.
Either using a rectangular cutter or homemade template, cut out two rectangles measuring approximately 4cm by 2cm. Store any remaining sugarpaste for later use.
Repeat with 10g of pink sugarpaste.
Stack the 4 rectangles you have just cut on top of each other, alternating colours, as shown, so that you have one four layer rectangle.
With your scalpel, cut the rectangle into 7 equal pieces, as shown.
Trim the short, uncut ends of each of the 7 pieces with a small artists scalpel and then gently reshape with your fingers, insuring all pieces are the same size and all edges are neat and even.
Take your layered cake slices and turn every other one upside down so that the colour of the top layers alternate brown, pink, brown, pink and so on.
Check the sizing of your little rectangle layer cakes against the circular base made in step 1 and the
pink three tier cake you made in step 2
. If they are too large simply trim the ends again.
To create the 'whipped cream' on top of the little rectangular layer cake slices, take 0.5g of
white sugarpaste and divide into 7 equal pieces. Roll each piece into a ball and then into a small teardrop shape.
Very gently twist the top of

each teardrop

to curve the tip.
Affix each one to the end of one of your layered cake slices, with a very small dab of vodka or edible glue.
Step 7
Last but by no means least you need to create the tiny rose petals.
Take a very small amount of red sugarpaste, (you will need less than 1g), roll into a thin thread and cut into 18 tiny pieces. Roll each piece into a small ball and flatten as much as you possibly can. Use a small paintbrush to gently curl up the edges, to create petals.
Repeat with 1g of light pink sugarpaste.
Step 8
Now you just need to attach all the little pieces to your circular base.
Use a small paintbrush dipped in vodka or edible glue to attach all of the pieces to the light green circular base.
Affix the petals in a scattered pattern to the green base, (I find it easiest to pick these up with a paintbrush).
Affix any remaining petals in a small pile on top of the little pink layer cake.