To blondie or to brownie?
I am convinced that I am not alone in my life long quest for the answer to what is surely one of life's most perplexing questions.
The blondie vs brownie debate has been raging for as long as I can remember and I'm sure many of you have often pondered the very same question.
Life is hard but the answer to that blondie vs brownie question is reassuringly simple.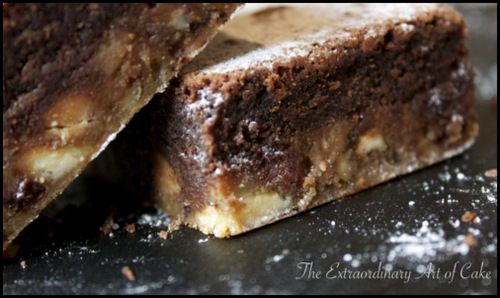 The answer is both, I'll take a blondie and a brownie please and if you could conveniently stack those on top of each other, that would be just fab.
All hail the mighty Blondie and Brownie Layer Bar.
The brownie layer is chocolatey, gooey and fudgey, just as a brownie should be. The blondie layer is a little cookie-like, action packed delight. It is literally packed full of white, milk and dark chocolate chunks, honey roasted nuts and I even added some peanut butter chips and butterscotch chips I picked up on my recent travels. The blondie layer is notoriously versatile so feel free to use any combination of chocolate, chocolate chips and nuts you fancy.
Blondie and Brownie Layer Bars
For the Brownie Layer:
95g unsalted butter, room temperature
95g dark chocolate
2 large eggs
1 tsp vanilla paste
125g golden caster sugar
60g plain flour
pinch salt
For the Blondie Layer:
100g unsalted butter, melted
160g light brown sugar
1 large egg
1 tsp vanilla paste
120g plain flour
pinch of salt
125g mixture of white, dark and milk chocolate, chopped
(you can also chocolate chips, butterscotch chips and peanut butter chips)
75g mixed honey roasted nuts
1 x 8" square brownie pan
Preheat the oven to 180C.
Grease and line the brownie pan and set aside.
Start by weighing out all of the ingredients for both the brownie layer and the blondie layer.
Set all of the ingredients aside in two separate areas, one area for your blondie ingredients and one for your brownie ingredients.
Melt together the chocolate and butter for the brownie layer and set aside to cool.
While you are waiting for the chocolate mixture to cool, make your blondie layer: Beat together the melted butter and sugar for 1-2 minutes, beat in the egg and vanilla and continue to beat for a further minute. Fold in the salt and flour, folding until completely combined. Add the chocolate and nuts and fold through until evenly distributed.
Transfer the mixture to the prepared brownie pan, spread out in an even layer and set aside.
Now make your brownie layer: In a medium sized mixing bowl, beat together the eggs, vanilla and sugar until light, pale and fluffy. Take the cooled, melted chocolate mixture and gradually whisk in the egg mixture a little at a time until fully incorporated. Fold in the flour and salt.
Pour the brownie mixture into the brownie tin, directly over the top of the blondie layer. Bake in the preheated oven for around 30 minutes, a cake tester inserted into the centre should have a few chocolatey crumbs attached and the top of the brownie layer will be dull and crackled.
Happy Baking!
X