This is without a doubt one of my favourite macaron recipes.
These beautiful macarons are soft, chewy, gooey and delicious. I have been making them for years and I can honestly say this recipe has never failed me.
This recipe is a French Meringue macaron recipe, which means, no boiling sugar syrup and no separate batches of egg whites. This makes everything loads simpler and much more manageable, making this a great recipe for beginner macaron makers.
Chocolate Macarons
Makes 18 macarons
2 baking sheets, lined with parchment paper
1cm plain piping tip and piping bag
For the Chocolate

Ganache

:
150g milk or white chocolate, finely chopped
25g unsalted butter
To Assemble:

1cm plain round or star piping tip and piping bag
In a large mixing bowl, sift together the icing sugar, ground almonds and cocoa powder.

In the bowl of a stand mixer or in a large bowl using a handheld whisk, whisk the egg whites just until stiff, but not dry, sprinkle the sugar over the egg whites and continue to whisk until very stiff.

Now in two additions gradually fold in the sifted ingredients with a rubber spatula. To fold, use the spatula to cut through the batter and the fold the mixture up and over. Once the batter is ready it will fall off of the spatula in a thick ribbon, when the ribbon falls into the bowl it should begin to sink back into the rest of the batter.
Fit your piping bag with the piping tip and sit it over a tall glass, turning the top of the bag back on itself, creating a cuff. Fill the piping bag with macaron batter and pipe small 5cm rounds a couple of cm apart onto your lined baking sheets. Rap the baking sheet hard on the counter top to remove air bubbles and then leave them sit at room temperature for 30-60 minutes to form a skin. You can tell when a skin has formed by gently touching the top of one of the rounds, you should come away with a clean finger. If any batter sticks to your finger, allow them to sit for longer.
Bake the macarons for 12 - 15 minutes. The macarons should no longer wobble when pushed gently. Remove from the oven and allow the macaron shells to cool on their sheets for a few minutes before removing and placing on a wire rack to cool completely.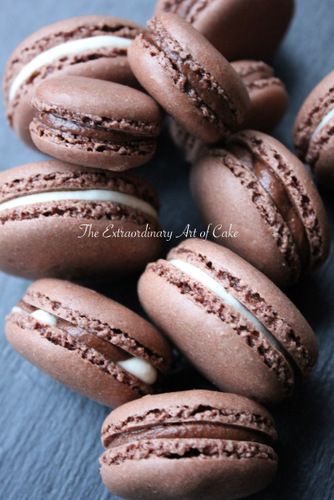 To Make the Ganache:

Place the chopped chocolate in a heatproof bowl. Gently heat the cream and butter in a small saucepan. Bring just to a boil and then immediately pour over the chocolate. Allow the mixture to sit for a few minutes before stirring the ganache until smooth. Allow the ganache to cool completely and then whisk until thick.
To Assemble:
Pair up your macaron shells. Fill a piping bag fitted with a piping tip of your choice with ganache and pipe ganache onto the flat side of one macaron in each pair, top with the remaining macaron shell and repeat until all of your macaron shells are sandwiched together.