I have a confession to make....I'm a big old cupcake snob.
I have pretty strong views about basically all things cupcake and I kid you not when I say, I could rant about vanilla cupcakes for hours, maybe even days!
I have tried so many hard topped, dry, flat, flavourless vanilla cupcakes. I honestly can't think of anything quite as disappointing as a rubbish cupcake and so a
s mad as it may sound, of all the Buttercream Bakery cupcake recipes, I spent the most time perfecting my vanilla cupcake recipe.
For me, this really is the ultimate vanilla cupcake recipe.
They are beautifully soft, light and fluffy, moist, sweet, buttery and generously vanilla bean studded. They rise into a beautiful dome and pair beautifully with every buttercream and frosting in existence.
Here I have topped my Vanilla Cupcakes with silky smooth Vanilla Bean Buttercream and seriously cute homemade jumbo sprinkles.
Making your own sprinkles may seem a little over the top but trust me, when you taste them you will be immediately converted. These are the yummiest sprinkles ever!
If you decided to make flavoured sprinkles like I have, I highly recommend using a
pipette
to add your extracts and flavourings. There is nothing worse than extract over kill.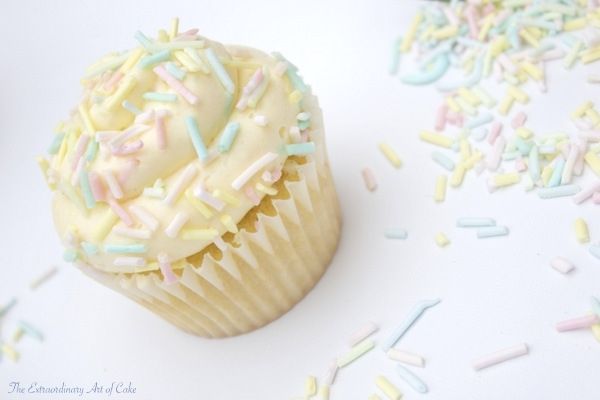 Here is a little list of the food colouring pastes and flavours I used:
Baby Blue - 1-2 Drops Natural Blueberry Flavouring
Light Green
- 1-2 Drops Natural Apple Flavouring
Yellow - 1-2 drops Natural Mango and Natural Tropical Flavouring
Baby Pink - 1-2 Drops Natural Raspberry Flavouring
Aqua - 1-2 Drops Natural Coconut Flavouring
My fruity sprinkles tasted absolutely amazing with my vanilla cupcakes.
Notes on the Recipe:
Use room temperature ingredients to make your cupcakes!! If you use cold butter, milk or eggs to make these cupcakes they will NOT come out perfectly. You absolutely must use room temperature ingredients.
Every time I post a picture of a vanilla cupcake online I get asked for my buttercream recipe. Most people think that the recipe is the key to perfect buttercream but when it comes to American Buttercream this isn't really the case. American Buttercream is really simple and most recipes really do not differ that much. The secret to perfect buttercream is in the method. Think Michael Jackson and beat it, beat it...beat it!! Follow my method exactly and you will have the silkiest, smoothest buttercream around.
1 tsp baking powder
1/2 tsp salt
125g unsalted butter, room temperature
2 large eggs, room temperature
250g unsalted butter, room temperature
To Make the Cupcakes:
Preheat the oven to 180C (170C FAN OVEN).
Line a 12-hole muffin pan with 12 muffin sized cupcake cases and set aside.
Sift together the flour, cornflour, baking powder and salt. Set aside.
In a large mixing bowl with a handheld mixer or in the bowl of a stand mixer beat the butter for 1-2 minutes until smooth and creamy. Scrape down the sides of the bowl, add the golden caster sugar and continue to beat for 3-5 minutes, or until very light and fluffy. Do not forget to stop and scrape down the sides of the bowl periodically as you beat.
Add the eggs one at a time, beating well after each addition. Scrape down the sides of the bowl between additions. Once the eggs are completely combined, beat the mixture for a further 30 seconds.
Add the vanilla paste and beat until evenly distributed.
Add one-quarter of the flour mixture and beat at a low speed just until combined, now add one-third of the milk and beat just until combined. Continue alternating between the flour and milk beating just until combined after each addition and no longer. Do not forget to scrape down the sides and bottom of the bowl periodically between additions.
Divide the mixture evenly between the 12 cupcake cases in your prepared muffin pan and bake for 18-22 minutes or until a cake tester inserted into the centre of one of the cupcakes comes out clean.
Remove the cupcakes from the oven and transfer to a cooling rack. Allow the cupcakes to cool completely before icing.
To Make the Buttercream:
In a large mixing bowl with a handheld mixer or in the bowl of a stand mixer beat the butter for 2-3 minutes until very soft, smooth and creamy. Add two-thirds of the icing sugar, the milk and the vanilla paste and beat for 2-3
minutes. Scrape down the sides of the bowl and beat for a further minute. Add the remaining icing sugar and beat the buttercream on a medium speed for a minimum of 5 minutes.
Use a large rubber spatula or scraper to push and spread the buttercream against the sides of your bowl to remove some of the larger air bubbles.
To Assemble:
Transfer the buttercream to a piping bag, fitted with a piping tip of your choice. I have used a 1.5cm plain round piping tip. Pipe swirls of frosting onto the cupcakes, practising a few in the buttercream bowl first if you do not feel confident and scatter with sprinkles if you wish.
2 large egg whites, room temperature
assorted food colouring pastes
assorted extracts and natural flavours
To Make the Sprinkles:
Line two baking trays with baking paper and set aside.
Sift the icing sugar into the bowl of a stand mixer or large mixing bowl. Add the egg whites and salt and whisk at a low speed to a paste. Scrape down the sides of the bowl and whisk once again ensuring all of the ingredients are fully combined.
If you are making lots of different coloured sprinkles; divide the mixture between a number of small bowls and add food colouring paste sparingly until desired colour is achieved. Add tiny drops of extract or flavouring to each bowl if desired.
Transfer the various coloured pastes into their own piping bags fitted with small round piping tips (#1 or #2) and pipe out long thin lines onto the prepared baking trays. Make sure your piped lines do not touch each other.
Repeat until all of your coloured pastes have been used up. Allow the sprinkles to set for a minimum of 3-4 hours or ideally overnight before using a sharp knife to cut into pieces. You can make longer jumbo sprinkles like I have or chop your sprinkles into smaller pieces.
Store the sprinkles in an airtight container or jar.
Pretty Pink Vanilla Cupcakes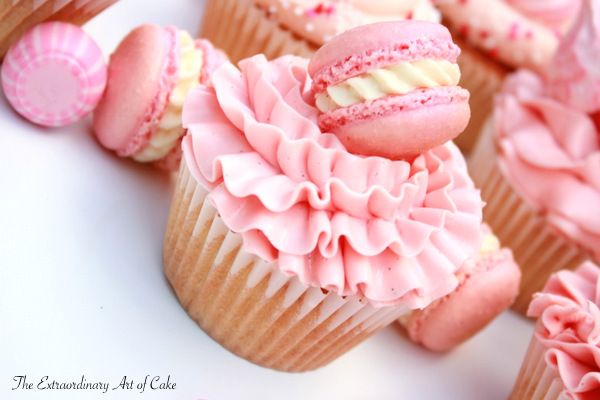 Check my recipe index for alternative macaron recipes.
99 Ice Cream Style Cupcakes
This is a brilliantly simple way to decorate your vanilla cupcakes. Frost your cupcakes using a plain round piping tip, break up a Flake chocolate bar and push around a quarter of the bar into the frosting, sprinkle with any remaining shards of chocolate.