I thought it would be fun to create a little cupcake inspiration post for you all.
I have put together a few inspiration boards focusing on Chocolate Cupcakes, Vanilla Cupcakes, Mini Cupcakes, Teddy Bear Cupcakes, Miniature Sugarcraft Cupcakes and Fancy and Frilled Cupcakes.
I'm going to talk about some of my favourite simple cupcake designs, decorating techniques and toppers. Hopefully if you are searching for a little cupcake inspiration you will find something suitably scrumptious here.
Chocolate Cupcakes

Chocolate Cupcakes are pretty instantly scrumptious looking if you ask me and the more chocolate you pile on top of your chocolate cupcakes the more scrumptious they will look.
So with that in mind, I like to frost my cupcakes with silky smooth chocolate buttercream, drizzle them with melted chocolate, sprinkle with more chocolate and finally top with a chocolatey confection.
You can find my Chocolate Cupcake, Chocolate Buttercream and Chocolate Drizzle Recipes here:
Chocolate Cupcakes
Some of my favourite chocolate cupcake toppers and toppings,(as seen above), include:
Oreos, crushed for sprinkling and halved for topping, sliced chocolate bars, such as Snickers or Mars, chocolate shavings, salted caramel and Hershey's Kisses.
Vanilla Cupcakes
The Vanilla Cupcake is the quintessential cupcake.
As you can see above, I love the contrast of chocolate against vanilla. Chocolate moulds are a brilliantly simple method of making cupcake decorations. You can see my chocolate teaspoon topped cupcake in the top left hand corner of the image above. My teaspoon chocolate mould is one of my favourites. You can find the awesome mould here: Siliconemoulds.com - Chocolate Teaspoon Mould

I also love turning Vanilla Cupcakes into 99 Ice Cream style cupcakes with Flake chocolate Bars. Simply push around a quarter of a Flake into the Buttercream and scatter with shards of flakey chocolate.

Vanilla cupcakes look gorgeous decorated in pretty pastel colours, topped with pretty sugarpaste flowers or topped with colourful sprinkles. I also love to sprinkle my Vanilla Cupcakes with white chocolate shavings and lemon zest for a little burst of flavour.

You can find my Vanilla Cupcake Recipe, Vanilla Buttercream Recipe and Homemade Sprinkles Recipe here:
Vanilla Cupcakes
Mini Cupcakes
I am not going to go into too much detail about miniature cupcakes here because I have a whole Miniature Cupcake Inspiration post to refer you to:
Miniature Cupcake Inspiration
My miniature cupcake inspiration post features all my top tips and tricks for making and decorating miniature cupcakes. I have tried to include information on everything from filling your miniature cupcake cases to piping your buttercream.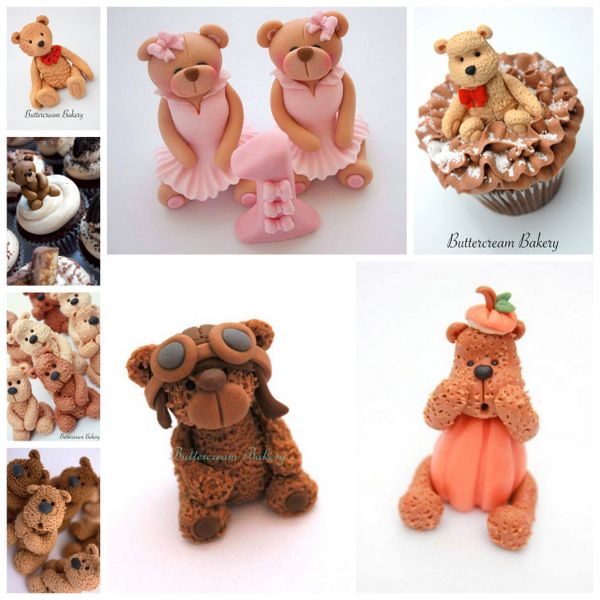 Teddy Bear Cupcakes and Cupcake Toppers
Now we're getting fancy!
We love our teddy bears at Buttercream Bakery. We make an unbelievable number of teddy bear cake and cupcake toppers and I love each and every adorable one.
Even if you have never made a cake topper in your life, with a little practise you will
master the basic teddy bear techniques in no time and once you have those down, you can adapt the design to fit almost any theme.
I have not one but two Teddy Bear Cupcake Topper Tutorials for you.
You can find my basic Teddy Bear Tutorial here:
Teddy Bear Cupcake Topper Tutorial
And if you want to really go for it, you can find my Pumpkin Teddy Bear Cupcake Topper Tutorial here:
You can also make seriously cute chocolate teddy bears out of Modelling Chocolate, perfect for topping chocolate cupcakes. You can find my Modelling Chocolate Recipe here:
Miniature Sugarcraft Cupcakes
While miniature cupcake toppers may look scarily complicated, once you have practised a few miniature techniques and managed to get into the miniature mind set you will be amazed at what you can come up with.

Why not have a little go, you can find my Miniature Patisserie Cupcake Topper Tutorial here:
Miniature Patisserie Cupcake Topper Tutorial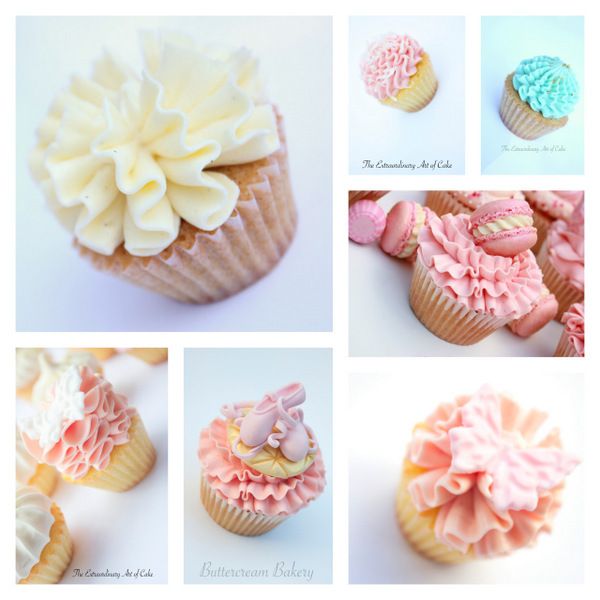 Fancy and Frilled Cupcakes
Last but by no means least, lets talk about fancy cupcakes.
Frosted, fancy and frilled these adorable cupcakes owe all their gorgeousness to pretty piping techniques.

Piping techniques can take a little time to master but once you do you will be able to whip up a batch of flawlessly decorated cupcakes in record time.

All the cupcakes above use one of two piping tips. The two mini cupcakes in the top right hand corner are decorated with a
French Star Tip
, (also know as a fine toothed open star tip). To create the frilled effect, first try holding the piping bag/tip above and directly in the centre of the mini cupcake and pipe without moving the tip from that spot. Simply apply pressure to the piping bag and allow the frosting to fill before releasing the pressure and moving the tip away. Now with a new cupcake do exactly the same only instead of holding the piping bag still on the spot move it in the tiniest of circles as you squeeze. This will create really frilly frills.

All of the remaining cupcakes in the image above were decorated with my favourite piping tip, the Atteco 855.
I am such a sucker for buttercream fills and ruffles and you can do so much with the 855. Have a play around and see what you can come up with. I will maybe try and put together a little tutorial for you all, so you can see the different ways I use the tip.
That's it for my little cupcake inspiration post, I hope you are feeling suitably inspired!
Don't forget to use #theextraordinaryartofcake when posting your extraordinary creations on Instagram and Twitter, I absolutely love to see all your makes and bakes.
Happy Cupcaking!