I feel I should probably start this post by promising that this will be my last coconut themed bake for at least a little while. I think I've posted three coconut based recipes in as many weeks.
I just couldn't help myself! These cookies are so yummy!
They are like the chocolate chip cookie version of a Bounty chocolate bar and I am well and truly hooked. I make mine with big fat chocolate chunks that melt into glorious pools of molten chocolate when baked.
You can use Milk, White or Dark Chocolate, or indeed a combination of chocolate like I have here.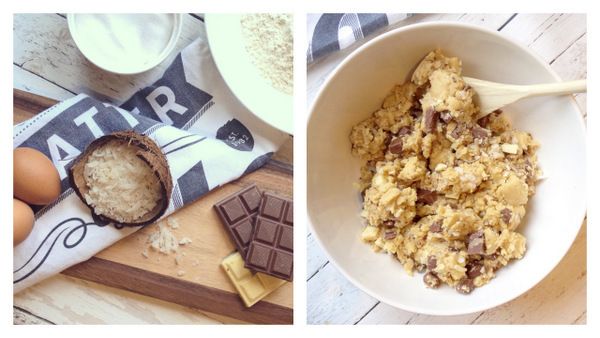 Coconut Chocolate Chip Cookies
75g milk chocolate, chopped into chunks
50g white chocolate, chopped into chunks
Preheat the oven to 180C (170C Fan).
Line 2 cookie sheets with baking paper and set aside.
In a medium sized bowl sift together the flour, salt, bicarbonate soda and baking powder, set aside.
In the bowl of a stand mixer or in a large mixing bowl with a handheld mixer, cream together the coconut oil and both sugars.
Add the egg and beat until fully incorporated, scrape down the sides of the bowl, add the vanilla paste and continue to beat for 1 minute.
Gradually add the flour mixture, beating at the lowest speed until the dough just comes together.
Fold in the coconut and the milk and white chocolate chunks.
Divide the cookie dough into equal rounds and place on the prepared cookie trays.
Place the cookie trays in the refrigerator for 20 minutes or until the cookie dough rounds feel firm to the touch.
Place the cookie trays in the preheated oven and bake for approximately 10-12 minutes or until the edges of the cookies are golden brown.
Remove from the oven and allow the cookies to cool on the cookie sheets for a few minutes before transferring to a wire rack to cool.