It feels like forever since my last post, I can only apologise and offer the very best of excuses, I've been busy baking up a baby! Yes I am now the proud mumma of a beautiful baby girl. I'm still on maternity leave from the bakery and haven't yet worked out how to actually get anything done. This post has taken me an unfathomable amount of time to put together. If any fellow mum bloggers or bakers have any tips for me, I would love to hear your secrets!
I thought I would break myself in gently with a super easy bake that comes with a hefty chocolatey reward for my hard work, plus I couldn't help but get a little festive and get my Halloween on.
These delicious fudgy brownies are such an easy Halloween treat, no mixer needed, one pan and no fancy out of the ordinary ingredients. Totally busy mum suitable.
For the little gravestones, all you need is a little grey sugarpaste, a scalpel or small knife and an edible ink pen. Just roll out the sugarpaste, cut little gravestone shapes and allow them to dry before writing little messages on them. I went for the old Buttercream Bakery favourite R.I.P. Diet and a little nod to The Walking Dead with R.I.P. Glen, *sobs uncontrollably into brownie* still not over that one.
Fudgy Chocolate Brownies
For the Chocolate Brownies:
60ml rapeseed oil or coconut oil
200g dark chocolate, chopped
For the Chocolate Ganache:
2 tbsp extra thick double cream
To Decorate:
To Bake the Brownies:
Preheat the oven to 170C.
Lightly grease a 9x9 inch brownie pan and line with baking paper.
In a medium saucepan combine the butter, oil and chocolate. Place over a low heat, string occasionally until melted and combined. Remove the pan from the heat and allow the mixture to cool slightly.
Add both sugars to the chocolate mixture and whisk to combine. Add the eggs one at a time beating until fully incorporated after each addition. Beat in the vanilla paste.
Add the flour and salt and mix well to combine.
Pour the batter into your prepared brownie pan and bake for 20-25 minutes. A toothpick inserted into the centre of the brownies should come out with a few moist crumbs, do not over bake.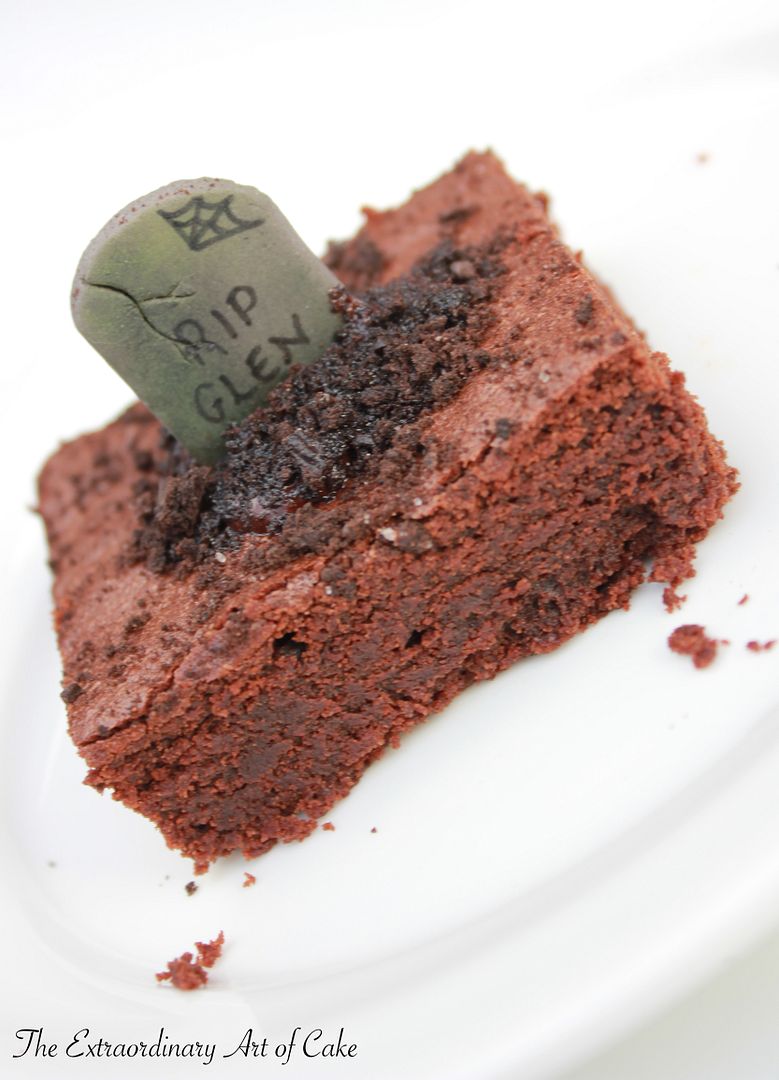 To Make The Ganache:
Melt the chocolate in a double boiler and allow to cool completely before stirring in the cream.
To Decorate:
Use a sharp knife to mark out where you will cut your brownies into individual squares. Pipe or spread a little chocolate ganache onto the centre of each brownie and push a little gravestone into the centre of the ganache. Sprinkle the ganache with crushed Oreos. Roll green fondant into little strands to create blades of grass and push the ends into the ganache.
Happy Halloween Everyone!